---
Memories of Mining
Wardley Colliery - No.2 Shaft, 1480 Landing
---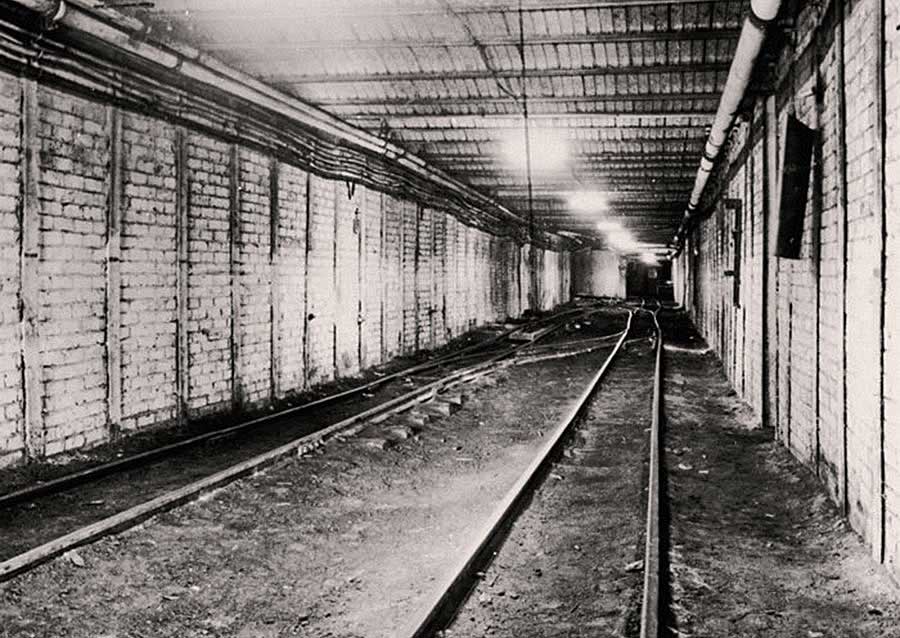 WARDLEY COLLIERY - No.2 SHAFT LANDING, 1480 LEVEL
(part of the Wardley/Follingsby/Usworth combined mine)
This is the scene that greeted the miners of Wardley Colliery when they stepped out of the No.2 Shaft cage into the 1480 Shaft Landing
(pron: fourteen-eighty.) It was the lowest of two working levels in the 1960s. The other was 220 feet higher up the shaft - the 1260.
The roadway (tunnel) curving to the left led to the coal faces, a couple of miles away. Each shift of men would be transported from this landing by an English Electric battery locomotive hauling a manrider (train). They travelled to an 'inbye' landing where they dispersed to their various workplaces. Straight ahead led into the loco battery charging station.
Mined coal was hauled 'outbye' in large mine cars to be raised by cage to the 1260 level. The coal was then hauled by another set of
E.E. locomotives to the Wardley No.1 Shaft (at Follingsby Colliery) to be raised to the surface, washed and graded. This 1260 level
loco road continued (underground) beyond Follingsby to Usworth Colliery, as Usworth coal was also transported by E.E. locomotives to be raised at Follingsby. When Wardley Colliery closed, Usworth coal continued to be raised at the Wardley No.1 Shaft.
N.B. a) Wardley/Follingsby & Usworth Collieries shared the coal preparation plant at Follingsby but had separate management structures.
b) Wardley No.3 was the colliery's upcast shaft.
Hello Tom,
Remember when you and your apprentice were checking specific gravities in the loco battery charging station
and you accidentally splashed electrolyte in your eyes? Good job we had plenty distilled water!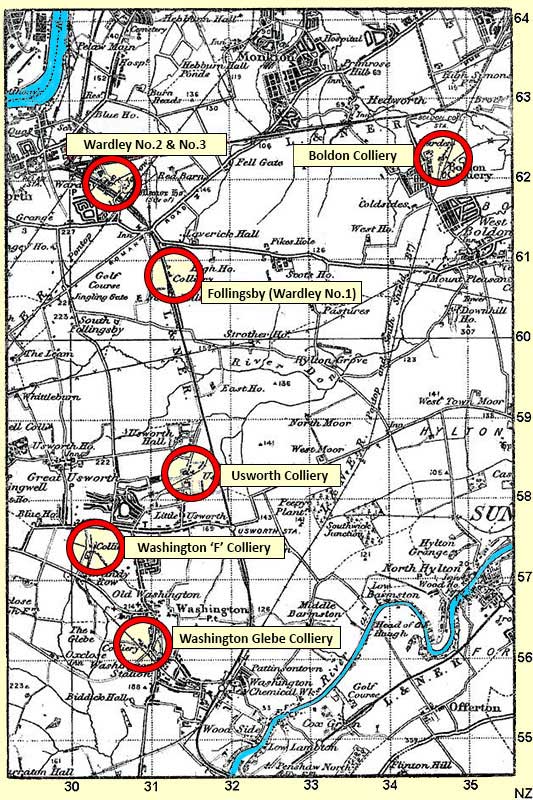 RELATIVE POSITIONS OF LOCAL COLLIERIES - 1951
(Showing the Wardley/Follingsby/Usworth interlinked mine)
---