---
Memories of Washington Welfare
... A Personal View (1 of 2)
---
Washington Miners' Welfare Hall
As I'd Like To Remember It ...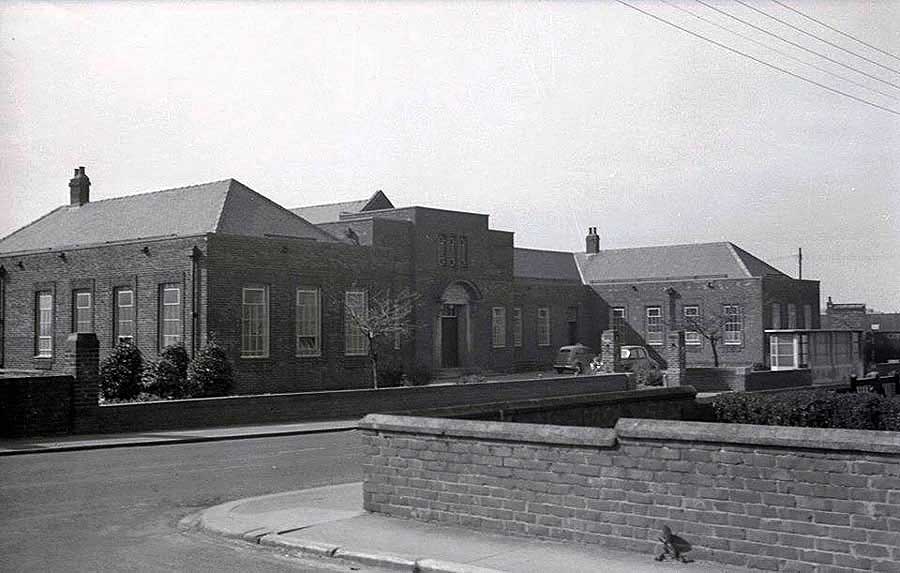 Washington 'F' Colliery Miners' Welfare Hall - standing proudly on Spout Lane
Miners' Meeting Place & Local Social Centre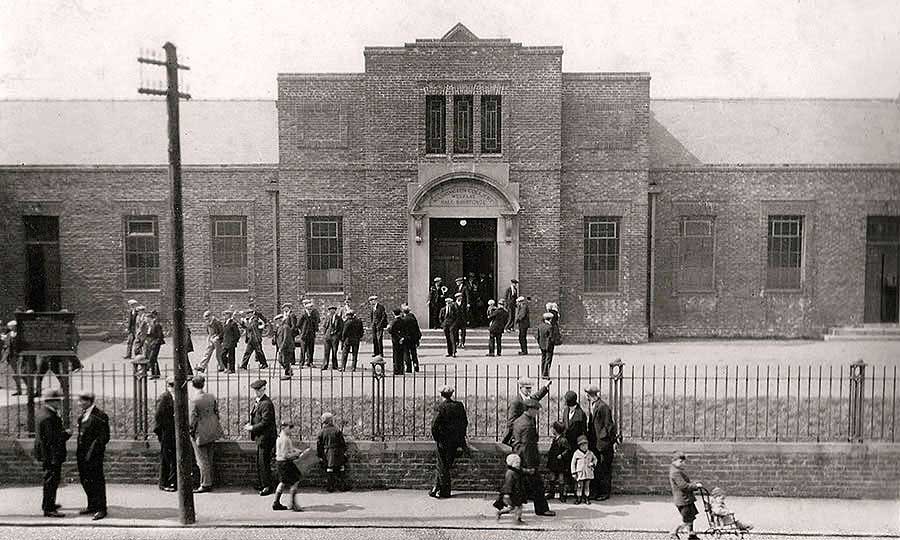 A place to meet your marras, play billiards/snooker/cards, read the newspapers, cheer cricket & football in the TV room etc.
The Welfare boasted a fabulous sprung dance floor and its stage hosted countless Meetings, Shows, Dance Bands & Groups.
Washington Secondary School presented its traditional Gilbert & Sullivan operettas here before the 'New School' was built,
and numerous societies & social groups met in this building. The Welfare Hall was an enormous asset to New Washington.
• • ◊ • •
INSCRIPTION ABOVE MAIN ENTRANCE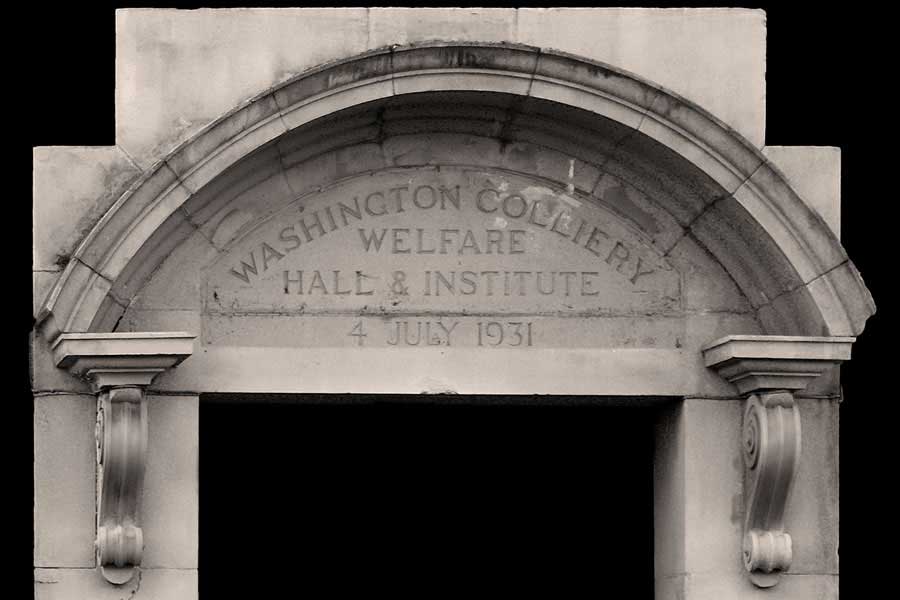 Photo: Tuesday, 20 Jan 2015
( The hideous wall decoration and shabby appearance of the final years have been removed so as not to offend former members! )
Billiards & Snooker Team - 1953/54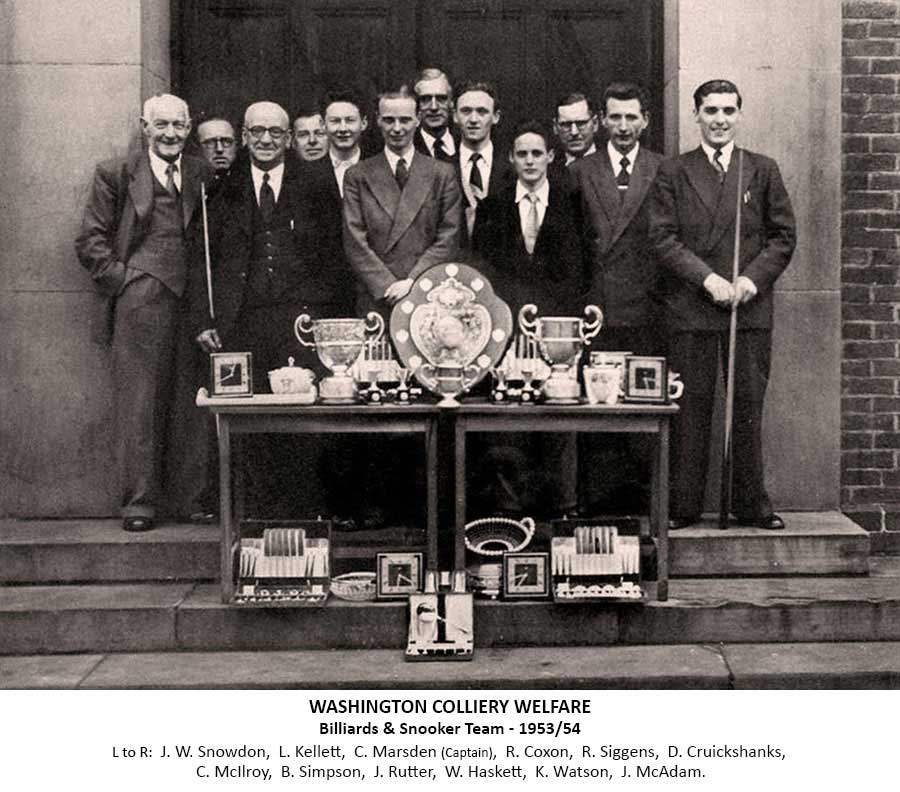 • • ◊ • •
Washington Colliery Welfare - Winners of the Burroughes & Watts Trophy, 1954/55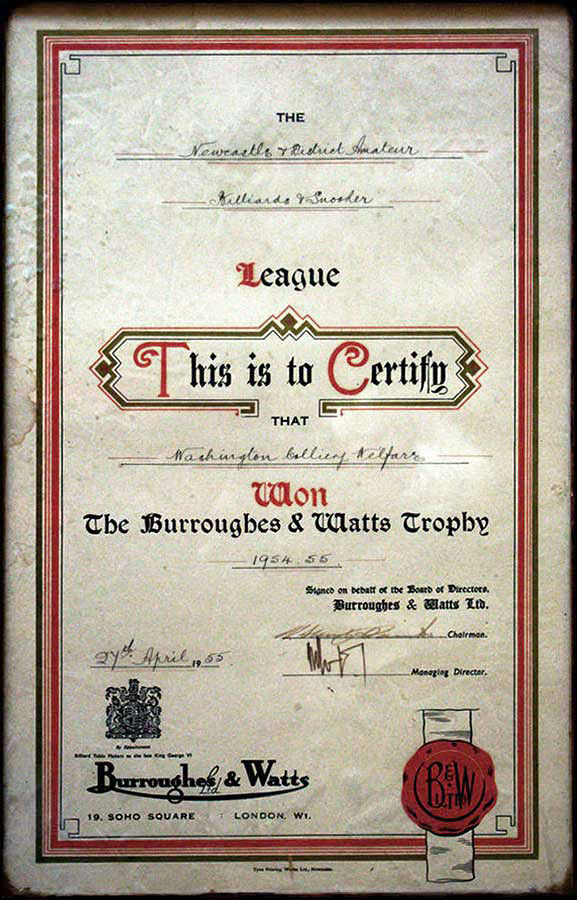 Jacky Rutter (see Team picture) regularly joined the lads on the 'Bottom Table' (see next tab) to play 'Cork' & 'Pool'.
Strangely enough, the best players didn't always 'tek the pot' when playing these two great games.
I still remember the time Brian Simpson invited me (aged 16) to be his partner on the 'Middle Table'
while he practised his snooker. Wow! Yes, I was well beaten but he didn't murder me.
Thanks for the memory, Brian.
Jim
Billiards / Snooker Hall
Some Personal Recollections: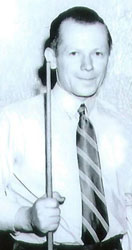 George Sowerby
The man in charge of day-to-day operations was the Welfare Hall's caretaker, George Sowerby.
His assistants included Tommy Daglish & Nichol Baister.
The Billiards Room contained 3 full-sized billiard tables and these were utilised as follows:
1. Top Table (furthest from Spout Lane & nearest to the desk): Billiards & Snooker only.
2. Middle (Tournament) Table: Billiards & Snooker only. Reserved for over-16s ...
if Mr Sowerby thought them skilful enough!
3. Bottom Table: All Games including low-stake Cork & Pool (NOT American).
These were allowed as games of skill, not chance.
Miners belonging to Washington 'F' Pit Lodge were automatically members of the Welfare Hall.
Boys aged 13-15 could become members for a subscription fee of 3s 3d per quarter (c.1960).
Young men aged 16+ could become members for a subscription fee of 6s 6d per quarter.
Members claimed their turn by writing their initials on a waiting list on Mr Sowerby's desk. Half an hour of Billiards or Snooker cost 3d. However, the unwritten rule was: when a snooker game was over, the loser paid the 3d and the table was vacated for the next players in line. Good players could finish a frame in 15-20 minutes. A bottle of pop or a bag of crisps cost 3d but a bottle of Pepsi Cola was 4d. If I turned out with 9d, I was set for a whole evening's entertainment - I could afford to lose up to 3 games!
Cork
A game for two or more players, based on billiards, played with two small skittles (corks) and the usual 3 billiard balls - white, spot-white & red. (Sometimes a yellow ball was substituted for the white and a green ball for the spot-white.) The white cork was placed on the 'snooker blue spot' and the black cork was placed on the 'snooker pink spot'. Lots were drawn for the playing order; 1d per player was given to 'The Man' (Mr Sowerby) for use of the table, and each player's stake was added to the Pot - 3d, 6d or, exceptionally, 1 shilling. The game begins with the white ball on the 'snooker yellow spot', the spot-white ball on the 'snooker green spot' and the red ball on the 'snooker black spot'. Alternate players use the 'other' cue-ball. The first player to score exactly 63 pts wins the Pot. Score 64+ and you are eliminated. Normal billiards scoring applies but if you knock over the white cork, while playing a legal shot, you get a bonus of 10 pts (whether you make a billiards score, or not). Knocking over the white cork illegally costs you 10 pts. Knock over the black cork and you are out! Corks are carefully stood up where they fall but if a ball cannot be passed between a cork and a cushion the cork is immediately replaced on its own spot. Exception: if a cork is knocked over and left leaning on a cushion, it remains in place and play continues - no bonus points, no elimination. Unlike billiards, it is often good play to 'pot the white' as it will be immediately replaced on its original starting spot. On Saturdays it wasn't unusual to have a dozen or more players taking part in each game. Who remembers, "Tekkin' the watter in" ?
Pool
Nothing like American Pool - this game allowed many players to take part. The stakes and table fee were as above and each player used a single uniquely coloured ball. Think Snooker balls: white, red, yellow, green, brown, blue, pink & black. Ordinary snooker balls allowed up to 8 players, but this could be boosted to 16 by asking George or his assistant for the Spot Balls. These were coloured balls with a spot - just like a billiards spot-white. George would place all the balls in a bag and each player would draw his personal ball from the bag. Everybody started the game with 3 lives. The white ball holder would place his ball on the 'snooker black spot' and the player with the red ball would have to hit it from the 'D'. If he missed the white, or went 'in-off', he would lose a life. If he pot the white, white would lose a life. However, it would be very poor tactics to try to pot the white ball at this stage of the game as failure would leave the red ball vulnerable to attack from the next player - yellow - also starting from the 'D'. Much better to 'roll up' and leave the red safely against the bottom cushion. More and more balls would be introduced onto the table - in snooker order first, then the spot versions afterwards. If you pot the ball you were 'on' e.g. if you were pink and you potted the blue, you could then attempt to pot the ball that now lay nearest to your pink, thus taking a life from that colour and giving yourself a chance to pot further (nearest) balls. If you didn't like your chances you could always play safe to make it difficult for the player who was 'on' you. Disputes about 'which ball was nearest' were easily resolved by measuring the various distances with a cue to the base of each possible ball and a finger on the cue held behind the player's ball. If the last two surviving players had the same number of lives left, they usually 'shevved' i.e. decided how to split up the Pot so that the runner-up wouldn't be left with nothing. One rather unhygienic rule: players coming to the table were never 'snookered'. If a ball stood between their cue-ball and the ball 'on', preventing it from being hit on either side, the obstructing ball was temporarily removed from the table and its position marked with a saliva-dampened finger! Like Cork: it was an exciting and entertaining social game.
Some players 'took the watter in' when they were in sight of victory i.e. they became so nervous that their cues shook visibly!
( Many Happy Memories: tension, laughter, success, disappointment, fun and comradeship - I loved this place! Pass the chalk, Marra. )
Annual Leek Show ... at The Welfare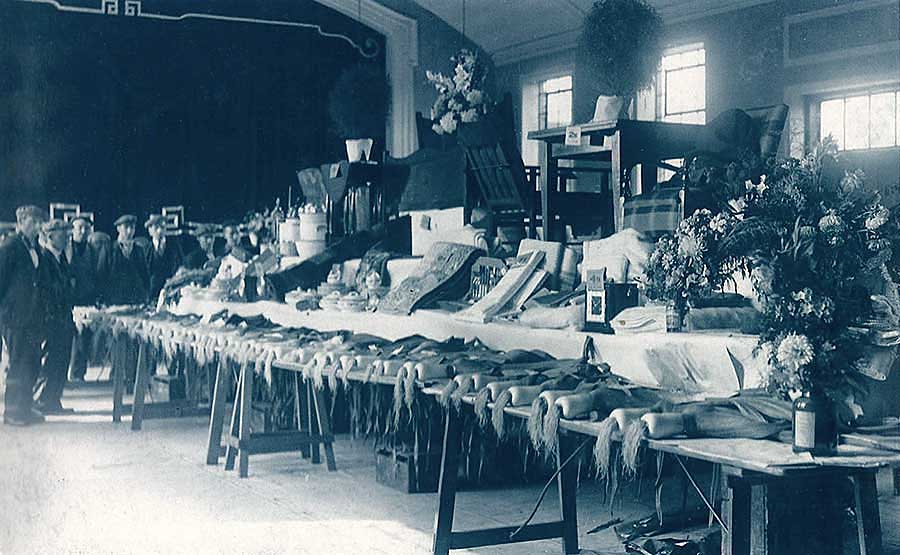 A miner's pride and joy - his leeks! One of the exhibit displays, containing top class leeks & quality prizes.
The Stage & The Dance Hall - with covers protecting its sprung floor.
The Gang Show ... at The Welfare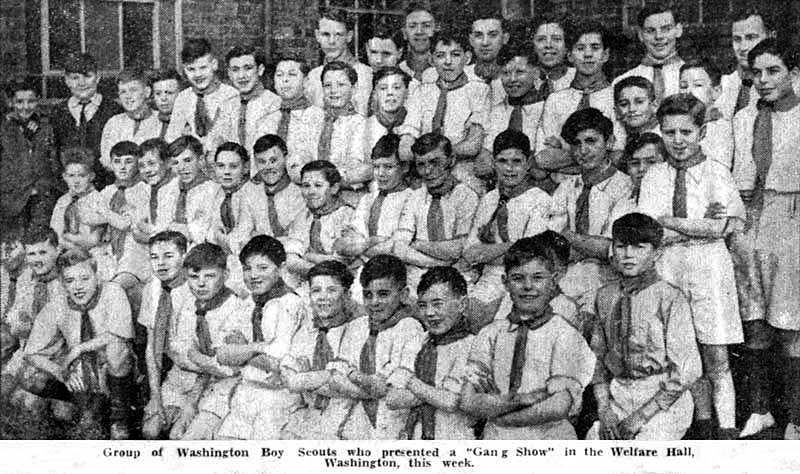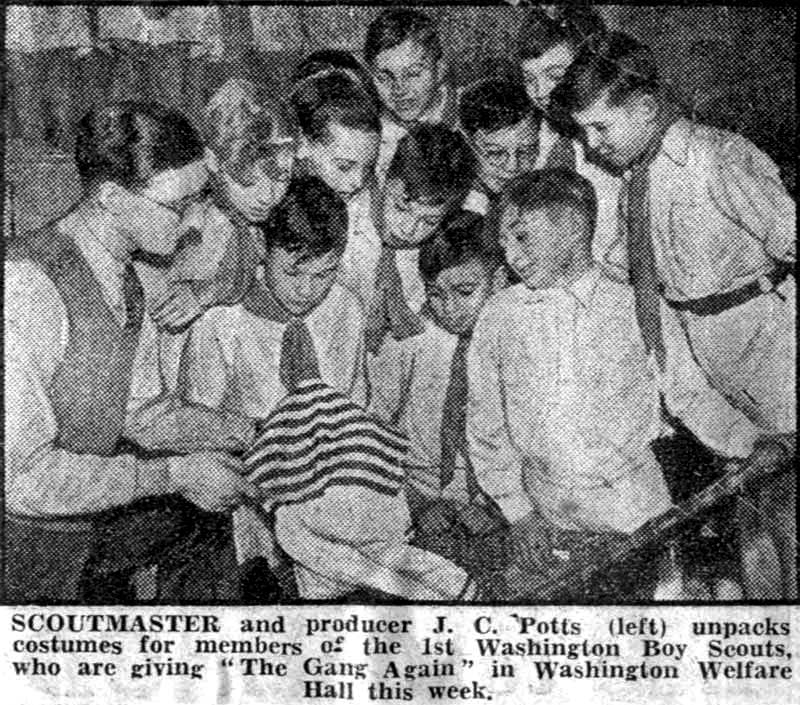 The Pirates of Penzance ... at The Welfare (1938)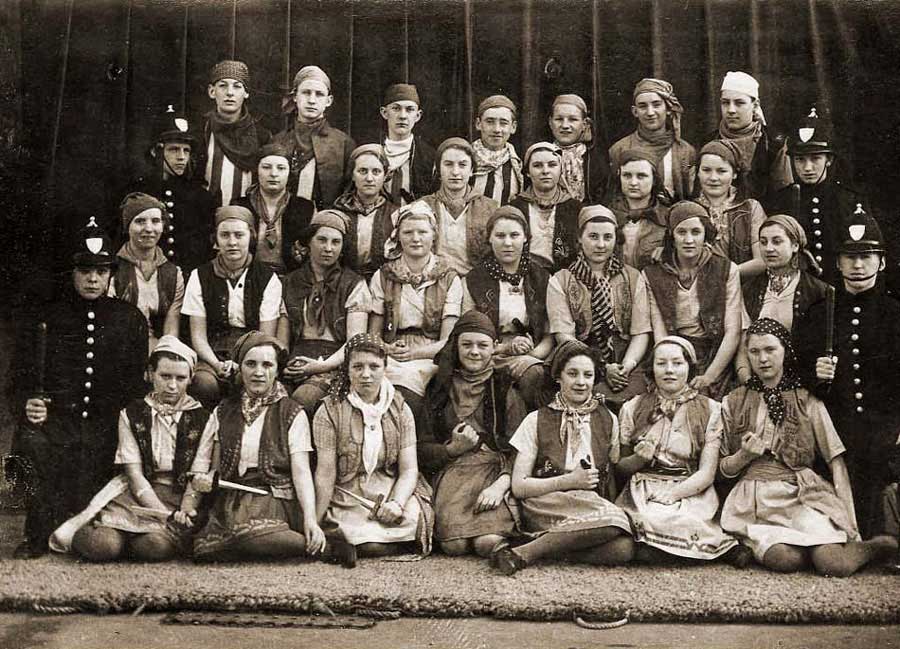 Washington Secondary School had a tradition of performing Gilbert & Sullivan operettas in the Welfare Hall.
( More at What's Where; Schools; Washington Secondary School; etc. )
'F' Pit Banner ... at The Welfare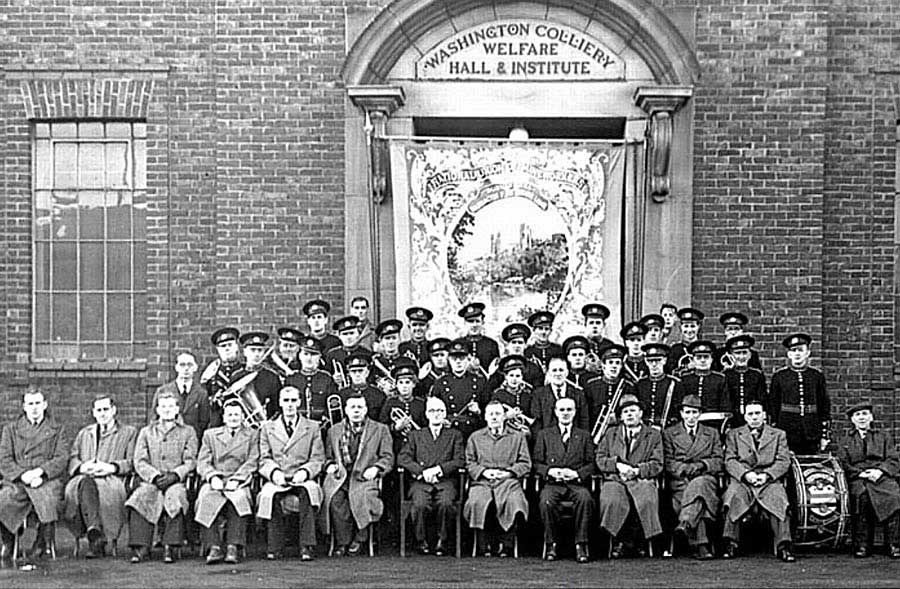 Washington 'F' Colliery Lodge Banner and Band.
The Sad Decline
Ethnic Restaurant, London Inn Pub, Groove Nightclub, Overgrown Car Park & Tasteless Decor - What An Eyesore!
( How could a building that gave so much pleasure to so many people be allowed to deteriorate into this state? )
The 'F' Pit Banner Returns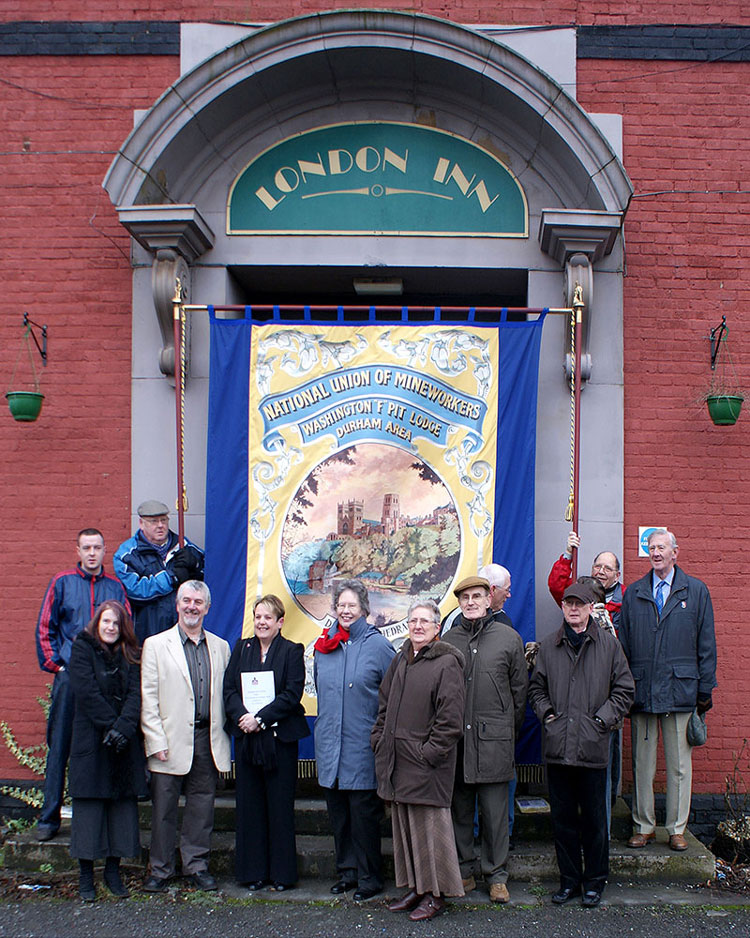 Washington 'F' Pit Lodge Banner.
Adding some class to the awful façade of the London Inn Pub / Groove Nightclub.
[ Go to Page 2 ]
---