---
Memories of an Usworth Family
The Richardsons of Railway Terrace ( 1 of 3 )
---
THE FAMILY OF ROBERT & MARGARET RICHARDSON
51, Railway Terrace, Usworth.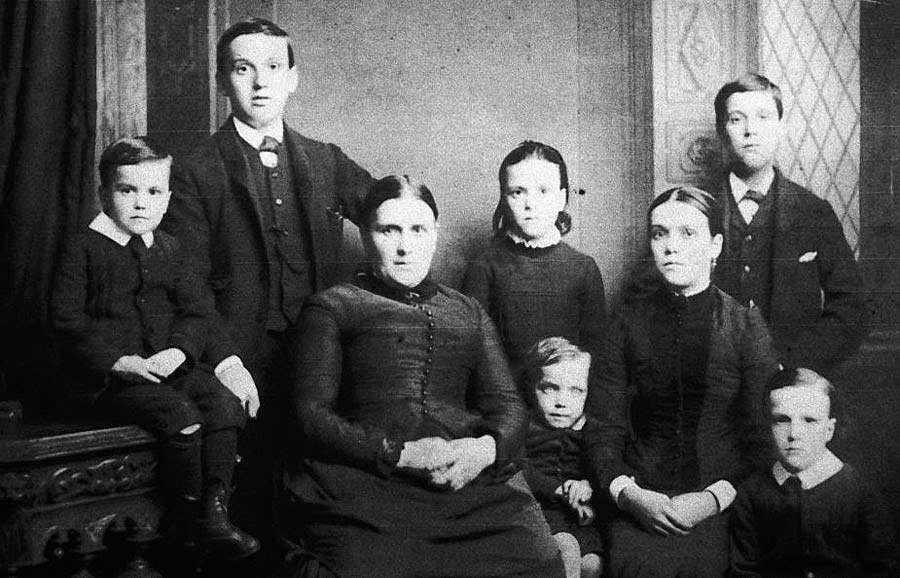 Margaret Richardson (née Pallister) with her 7 Children. Margaret's husband Robert died in the 1885 Usworth Colliery Disaster.
L-R: Ralph P. (1880-1945), Thomas (1868-1928), Margaret P. (1849-1908), Annie (1875-1944), John R. (1882-1949), Isabella P. (1869-1944), William P. (1873-1930), Robert (1877-1930).
( Hover your cursor on a face. )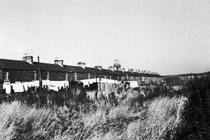 Railway Terrace
At 8:58 p.m. on the evening of Monday 2nd March 1885, a build-up of methane gas was ignited by shotfiring in a stone drift at Usworth Colliery. The resulting 'coal dust, gas & air' explosion was catastrophic - 40 miners died immediately and 2 more succumbed to afterdamp (post-explosion gases) while attempting a rescue. Hundreds of Usworth miners were suddenly without work.
Margaret Richardson, of 51 Railway Terrace, lost her husband Robert in the disaster. Robert was 39 years old and was interred along with his Anglican colleagues in Holy Trinity Churchyard, High Usworth. The funeral took place on the 26th March 1885 and the burial is recorded in the parish register. Roman Catholic miners were laid to rest at Our Lady's Church in Washington Village.
By an incredible piece of good fortune the family's eldest son, Thomas, was having a day off work. Margaret, now a widow, had six children to raise - Thomas being classed as an adult. Life must have been very difficult for the Richardson family. Like many of the other widows, Margaret became dependent on financial support from the Miners' Permanent Relief Fund to help raise her family. She received a lump sum of £5 plus 5 shillings per week widows benefit, payable while she remained a widow. For each of her children she received 2 shillings, payable until the boys reached the age of 12 and the girls 14. The families of the single men who died in the explosion each received a one-off payment of £23.
By the time of the 1891 census the family had moved to 11 Railway Terrace and Margaret, now aged 42, was working as a dressmaker. Margaret's neighbour, Jane Howarth, of 13 Railway Terrace, had lost both her husband Jonas (48) and her son William (20) in the explosion. Thomas was no longer in the Richardson family home but William, now aged 18, and Robert, aged 13, were both working in Usworth Pit - a Putter and a Trapper Boy, respectively. Isabella was 21 and probably helped her Mam with the dressmaking. Annie, aged 16, was no longer at home, having gone 'into service'. The two youngest, Ralph aged 10 and John aged 9, were scholars.
In 1892 Margaret remarried. Her second husband was John Patterson, a Winding Engineman, whose first wife, Mary, had died 3 years earlier. The 1901 census shows Margaret as M. Patterson, aged 52, living with her (2nd) husband at number 11 Pensher View, Usworth.
On 28th March 1903, John Patterson died, aged 58, leaving Margaret a widow for the second time. She died on the 19th October 1908, aged 59, in the Royal Victoria Infirmary, Newcastle. Her home address was given as 6 Cooperative Terrace, New Washington. Her funeral service was at Usworth Primitive Methodist Chapel at 3 p.m. on 22nd October 1908, followed by burial at High Usworth.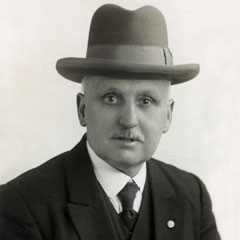 Thomas Richardson MP
All five of Margaret Richardson's sons followed their late father 'down the pit'. Thomas went on to become a local councillor and officially opened The Glebe School on 27th August 1908 - 6 months after the Glebe Colliery Disaster. He was later elected as Member of Parliament for Whitehaven (1910-1918). William became Usworth Colliery's Union Branch Secretary in 1898 and was appointed treasurer of the Miners' Federation of Great Britain in 1921. In 1924 he became General Secretary of the Durham Miners' Association. William held these last two posts until his death in 1930.
Bella married coal miner Leinan Gaunt, became a Councillor and was very active in local politics.
There are two Memorials to the miners who perished in the disaster - one at Holy Trinity Church,
High Usworth and the other at Our Blessed Lady Immaculate on Village Lane, Washington Village.
This is a story of one family's courage in overcoming adversity.
[ Family Photographs, History, Press Cuttings etc. appear here by kind permission of W.P. (Bill) Richardson, Margaret's great-grandson. ]
• • ◊ • •
This is an edited copy from the Usworth 1885 Disaster article. More on the Disaster at: What's Where; Collieries; Disaster - Usworth; ... or Click Me.
Mrs W. P. RICHARDSON
AN USWORTH GIRL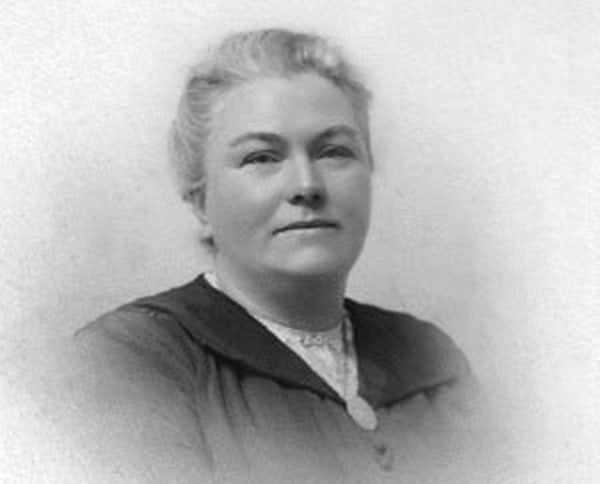 née Esther Howey.
(30th June 1875 - 3rd April 1927)
ESTHER HOWEY
Esther was born at Usworth, Co. Durham on the 30th June 1875. She was the fourth child of Thomas Howey, a colliery weighman, and his wife Georgiana ( née Turnbull). Her baptism took place at Holy Trinity, Usworth on 1st August 1875, the record in the Baptism Register showed that the family lived at Usworth and Esther's Dad was a labourer. She was recorded on the 1881 census, in the family home at High Usworth, aged 5. That census showed that her parents were originally from Northumberland but all the children, John (13), George (9), Esther(5) and James (3) had been born in Usworth.
By the time of the 1891 census, the family were living at number 38. Railway Terrace, Little Usworth and Esther was recorded as being 15 years old and a Pupil Teacher. Her eldest brother, John, was no longer living with the family but her other brothers were still listed. George was 19 and working as a Draper's Assistant and James, at 13, was working in the mine as a 'Token Boy'. Her father was still recorded as a Colliery Weighman and her mother would have been busy looking after all of them.
Esther was married on the 25th of April 1895, to William P. Richardson a miner who also lived with his family in Railway Terrace. As was the way of things then, she would have given up her job when she married. Their first home was at Bowring Buildings, Washington. It was there, in October 1896, their first child was born. He was called Robert, after his paternal Grandfather. Sadly, Robert was premature and lived for only four days.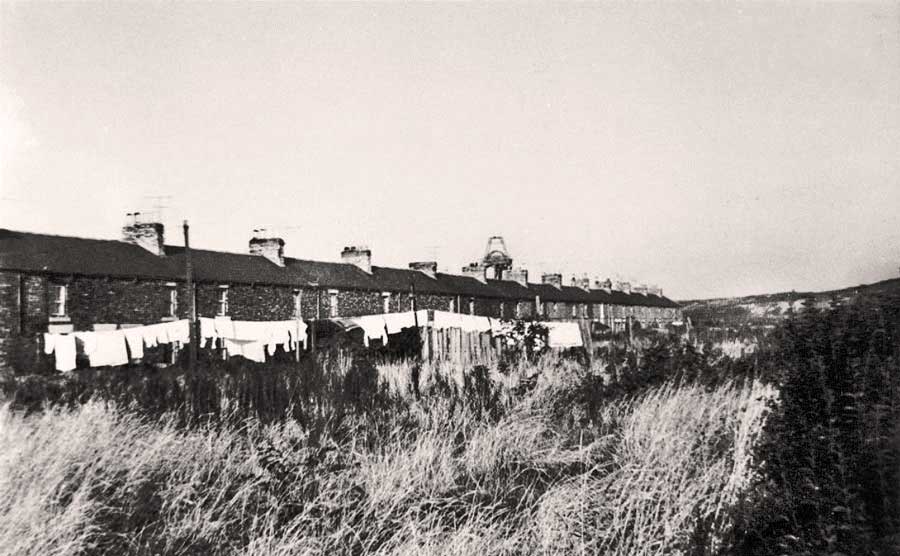 The Richardson Family Home - Railway Terrace, Usworth Colliery
Esther and William moved to West View, Usworth and in August 1897 more sadness as their second child Thomas, named for his maternal Grandfather, was also born prematurely and died just an hour after birth. In 1898 Esther and William had a third son, Ralph. More sadness as he too died soon after birth. Two years later, in July 1899, the couple were living at Railway Terrace in Usworth and their fourth child Georgena, named for her maternal Grandmother, was born. She too was premature and only lived for 20 hours.
On the 1901 census, Esther was recorded with William at number 13 Railway Terrace, she was 25 and William was 28 and listed as working as a coal hewer in the mine. Though the census didn't record these things, Esther was pregnant and their fifth child, who they named Esther, was born. The sadness was increased as again, she was premature and lived for just thirty minutes. Esther and William, would have grieved for their babies who had died, but they must have been overjoyed when their daughter May was born safely in May 1902. Georgena followed in February 1904, Esther in October 1906, Margaret in March 1909 and finally William Pallister in March 1911. Though all children are precious, these five must have been even more so to their parents who had the loss of five to bear before the joy the of others being born healthy and thriving.
Just three weeks after the birth of their son William Pallister, the family were recorded on the 1911 census. They were living at 2 Manor View in New Washington. Esther was 35 and her husband WIlliam was 38, he was still working as a Hewer in the pit. Along with their girls May (8), Georgena (7), Esther (4), Margaret (2) and their new baby boy there was a servant, Jemima Trueman, in the house. This wasn't usual in the house of a hewer and I assume that she had come to help out for a time both during Esther's pregnancy and after the birth.
Shortly after she died, the Northumberland Miners' Association produced an article in their Monthly Circular about Esther's life. The following extract details her role in helping her husband and also her own work for others.
"She was not only a great help in her husband's work as a trade union leader; with all its worries and anxieties, but she took an active part in the Labour political movement, and in the Women's Section played a prominent part in Durham. She was a well-known member of the I.L.P. In education she was also deeply interested, and was a governor the Durham Girls' County School. From a girl upwards she had been connected with the Primitive Methodist Church, and was well-known as a church worker."
Esther died on 3rd April 1927 aged 51. Her funeral service was on 6th April 1927 at the Primitive Methodist Church, North Road, Durham and she was buried at St. Margaret's Churchyard, Durham. Her husband had a memorial erected to her and the inscription reads: "In Memoriam, Esther, Beloved wife of W.P. Richardson. Born 30th June 1875. Died 3rd April 1927." Probate was granted to her husband William on 9th December 1927, her effects amounted to £832:13s:6d.
Esther's husband William served as General Secretary of the Durham Miners' Association from 1924 - 1930.
W.P. (as he was widely known) succeeded Thomas Henry Cann and held this post until his death.
W.P.'s father, Robert Richardson, was killed in the Usworth Colliery Disaster of 1885.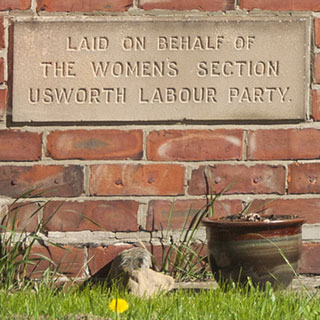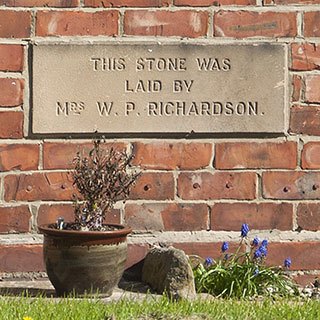 Commemorative Stones at the T. H. Cann, Aged Miners' Memorial Homes, Blue House Lane.
[ Photographs: J.G. Saint George's Day, 2018 ]
[ The above account of Esther's life in Usworth, and her part in the Labour Movement, appears here by kind permission of her grandson, W.P. 'Bill' Richardson. ]
• • ◊ • •
More about The Aged Miners' Homes at: What's Where; Collieries; T. H. Cann, Aged Miners' Homes ... or Click Me.
W. P. RICHARDSON
Usworth Colliery Branch Secretary Honoured by Friends & Colleagues
( 1916 )

Inscription on the Gold Watch presented to W.P.
Presented
TO
W.P. Richardson,
by the Workmen & Officials
of USWORTH COLLIERY
and other friends
AS A TOKEN OF ESTEEM ON LEAVING
THE DISTRICT
to take up the duties of
AGENT TO THE D.M.A.
JAN. 15th 1916.
• • ◊ • •
A SPECIAL SATURDAY EVENING AT USWORTH COLLIERY MINERS' WELFARE HALL
A Benefit Concert and Presentations to Mr & Mrs William Pallister Richardson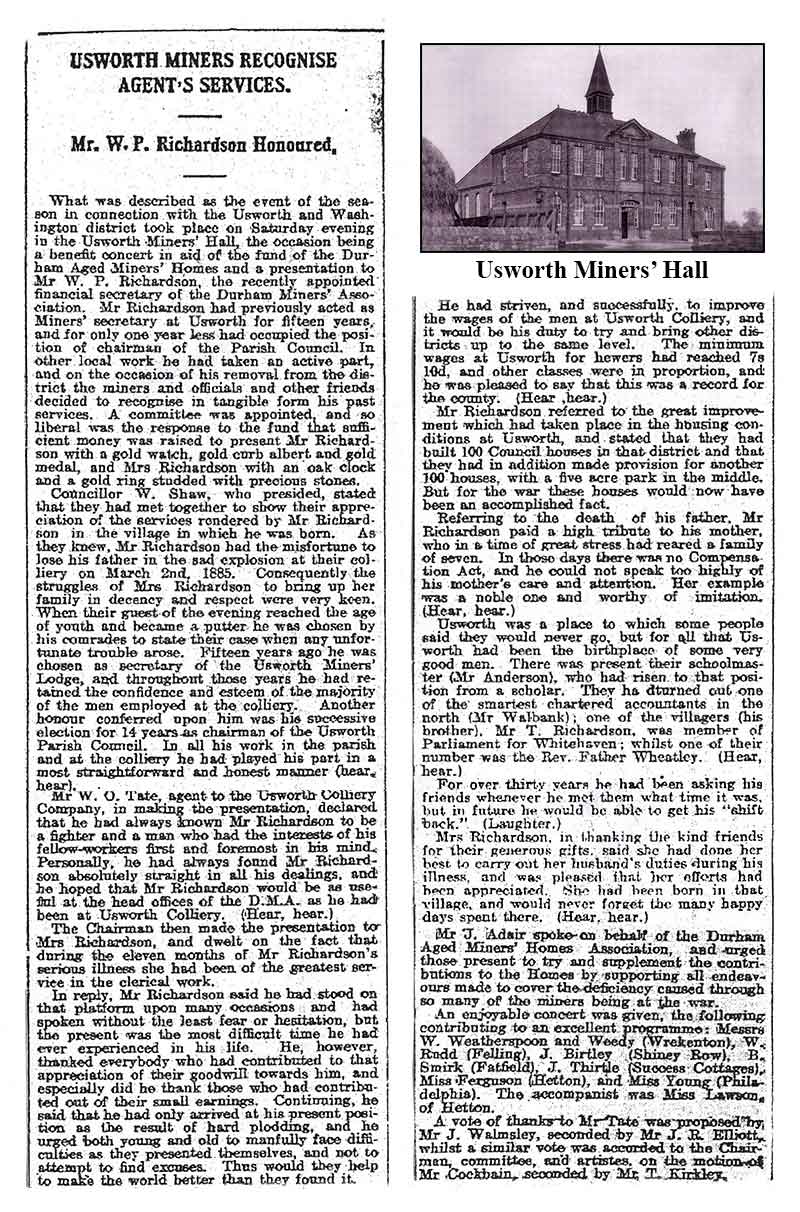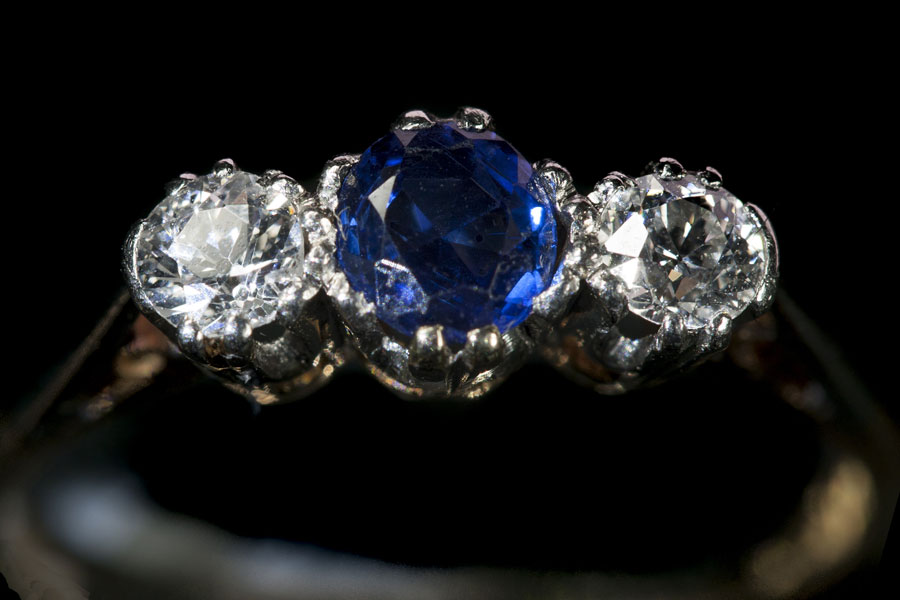 Gold Ring presented to Mrs Esther Richardson by the Usworth Miners' Lodge.
[ Family Photographs, History, Press Cuttings etc. appear here by kind permission of W.P. (Bill) Richardson, W.P.'s grandson. ]
Mr & Mrs W. P. RICHARDSON
A Trip to Popping Stone, Gilsland, in 1925.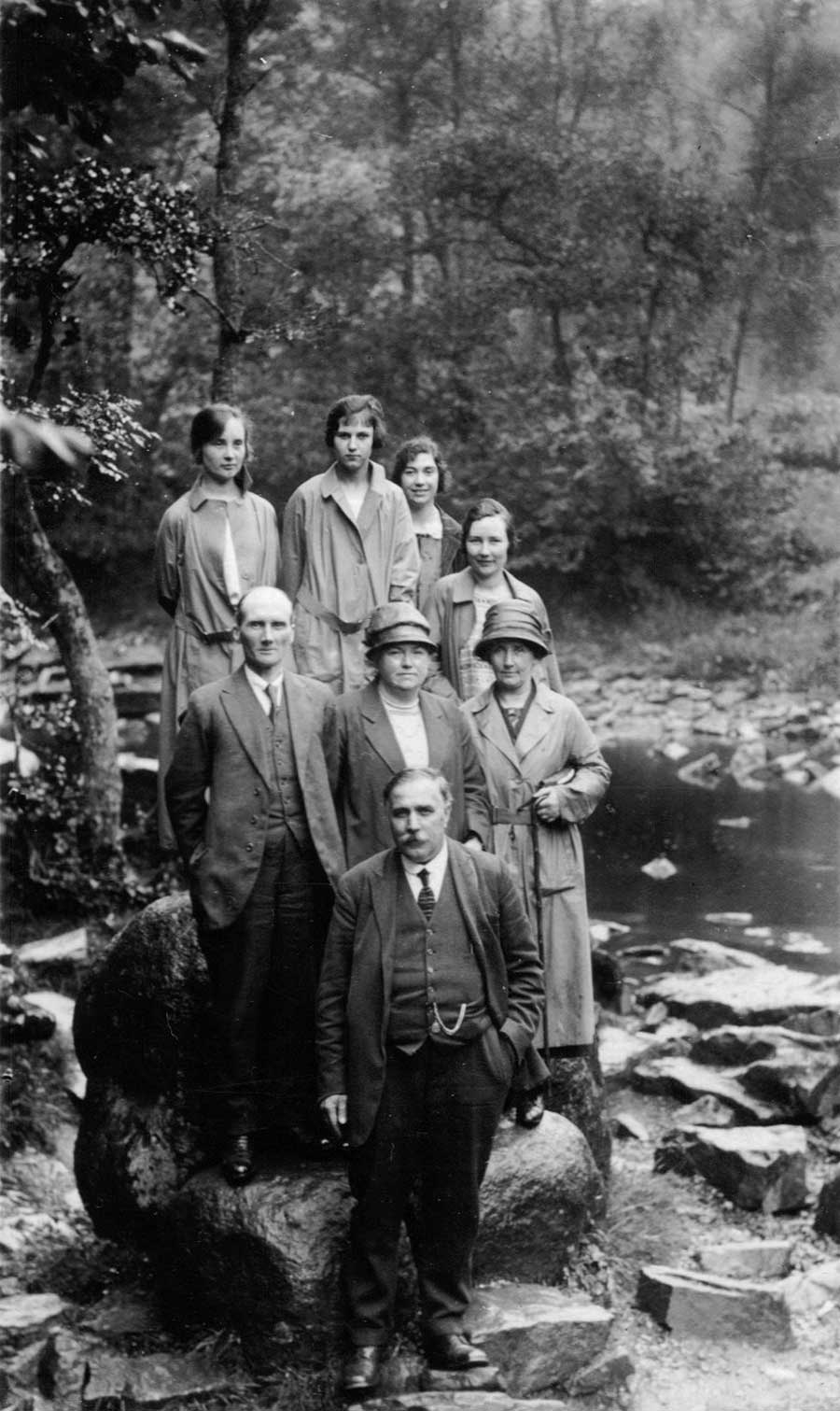 Esther Richardson (centre) with husband W.P. - wearing his treasured Gold Curb Albert Chain, Medal & Watch.
Daughters, Esther and Georgena (Ena) are immediately above Mrs Richardson.
( Also John Edward Gilliland, wife Ada Isabel (née Lee) and daughters Vera and Rena. )
• • ◊ • •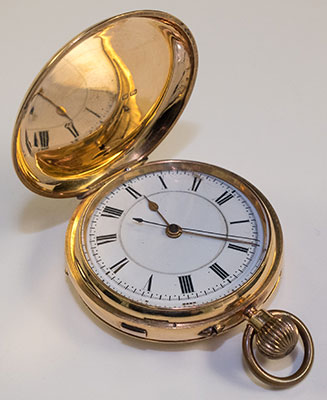 Presented to W.P. by his Usworth Colleagues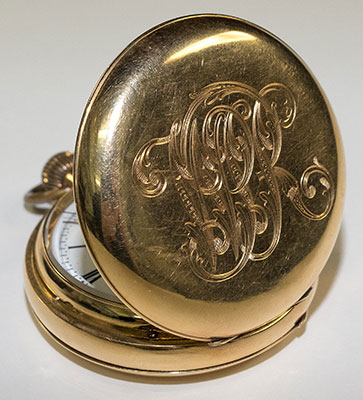 WPR
[ Thanks again to grandson, W.P. 'Bill' Richardson. ]
Mr & Mrs W. P. RICHARDSON
USWORTH MINER'S SON / USWORTH MINER'S DAUGHTER
( W.P. was the Son of Robert & Margaret Richardson )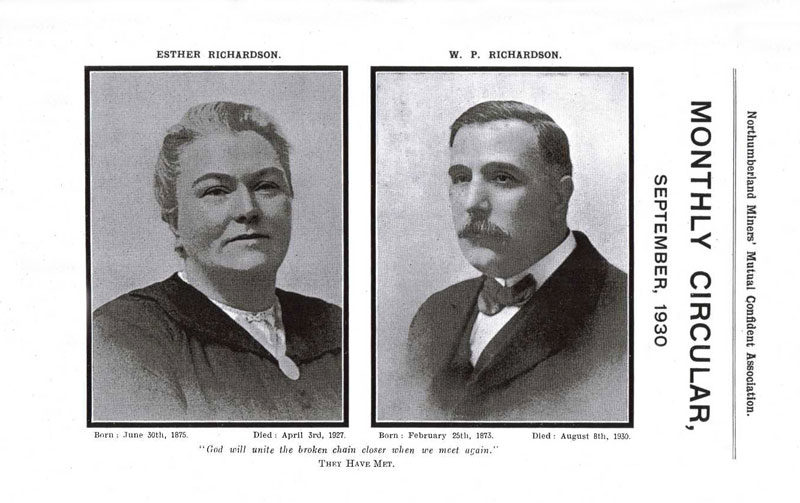 Esther Richardson, née Esther Howey, with her husband William Pallister Richardson
FRONT COVER OF THE NORTHUMBERLAND MINERS' ASSOCIATION TRIBUTE TO W.P.
• • ◊ • •
NORTHUMBERLAND MINERS' ASSOCIATION TRIBUTE
( Written by William Straker, Secretary, N.M.A. )
DEATH
of
WILLIAM PALLISTER RICHARDSON,
General Secretary, Durham Miners' Association
and
Treasurer, Miners' Federation of Great Britain.

A CHARACTER SKETCH
W. P. Richardson is dead. It is hard to realise it: it was so sudden and unexpected. His going was as his staying. He rushed through life; he rushed out of it. Restless, impetuous; never tiring in well-doing. Always concerning himself with other people's comfort and happiness, without thinking of his own. There were no things little in life to him. He would hurry along a railway train through carriage after carriage to the kitchen to secure someone a drink of soda water, with the same energy with which he would cross Europe to attend a meeting at which the welfare of miners, internationally, had to be discussed. And everywhere he carried the same genial smile, and hailed everybody in the same cheery way.
As a speaker he had no time for fine phrase and lengthy introductions. He went straight to the point he wanted to make. He had a style all his own, and in a miners' meeting could wield a wonderful power. He never tried to get away from the dialect of Tyneside, irrespective of where he was. He could turn pitmatic terms into poetic gems. He could fight and persuade almost in the same breath. Biting sarcasm would be so mixed with friendly references that offence was seldom felt from what he said. He was ready with apt illustration, and usually got his analogies from the mine, the miner's home, or the life of the miner. Such analogies might be lost on the stranger, but to the mining community their application and significance were at once understood.
He was an ideal husband. His wife was always first in his thoughts, at home or abroad. Wherever he was - away from home - a daily letter was sent to her. When the train in which he was travelling passed his home, just before arriving at Durham Station - if during the day - he waved a white handkerchief, and if during the night, he sent a shrill whistle through his fingers, to let her know that he was there. These things, which some may call little, sweeten home so much that to souls linked together by love, they are big indeed.
He was an affectionate father. His great ambition was to fit his children so that they would be better armed to fight life's battles than circumstances had ever allowed him to be. For this purpose he endeavoured to secure for them the best education it was possible for him to secure.
In work he was indefatigable. Whatever he did, he did with all his might. He possessed great organising ability, and was never so happy as when arranging some project. He loved peace, and avoided strife whenever possible; but could fight when driven to fight. His dislike of conflict sometimes appeared as an inconsistency in his character, when compared with his usual force and energy.
The writer of an "In Memoriam," in The Miner, said of him: "If he had one failing as a working-class leader - and his qualities were sufficient to enable this to be said without doing injustice to his memory - it was a certain fluidity; an inclination to temporise, to postpone the taking of an unpalatable decision, to defer action in the hope that circumstances might change, and make that action unnecessary."
But this writer went on to say: "Yet it would be ungenerous - untrue even - to deny that he had reserves of stubborn determination which demonstrated as clearly as his blue-scarred features, his oneness with the men of the mine."
His life was in unity with the life of the miners - he knew no other life! His character was as simple and unaffected as their characters are. Boisterous as they are sometimes boisterous; but like them, always kindly and sympathetic, and ready to assist where assistance was needed.
Away from work, he was a boy again, and entered into amusement or play with all a boy's turbulence. His playfulness, to the more sedate, sometimes became almost disconcerting, and yet no one could resent it: it was done in such a warm-hearted, though turbulent, way.
Farewell, for the present, W. P. I have described you as I knew you; again, farewell.
BIOGRAPHICAL
William Pallister Richardson, known among his friends and acquaintances as W. P., was born at Usworth Colliery, County Durham, on February 25th, 1873. His father was a miner, and lost his life in an explosion in Usworth Pit on March 2nd, 1885, when 41 lives were lost. It was three weeks after the explosion when his body was recovered. At the end of other three weeks a pony was got out alive - the only creature left alive. One can understand the affection W. P. had for that little horse, when afterwards, as a driver lad, it was his workmate.
His mother was left with a large family, and Willie was the second eldest son, so that he was called on early to augment the family income by his labour. Even when at school he, in the early morning, had to carry newspapers from door to door, for which those for whom he carried them gave him a small remuneration. Five months after his father's death he commenced to work in Usworth Pit as a pony driver. Poor little lad! How he would think of his father when in the same mine where his father was killed. And poor mother! What a trial when she had to send her boy to work in that pit which took from her her husband − where he would have daily to face the same dangers and risk the same death his father had died. But she had no choice. To help "to win the bairns their bite and sup" he had to go.
From a driver he rose to be a putter, and from a putter to a hewer. He very early in his career began to take an interest in the Usworth Branch of the Durham Miners' Association. When only a putter he was appointed putters' average wage taker, and when a very young man he was appointed secretary of the branch. He also became secretary of the Usworth Branch of the Durham Miners' Approved Society, under the National Health Insurance Act. He was, in addition, Compensation Secretary of that branch.
His brother Tom was well-known in the Labour Movement, and was for some time M.P. for Whitehaven, in Cumberland. The first time that Tom had to visit London as a member of a miners' delegation, Willie and his brother-in-law, James Howey, went with him to see the London sights. It was a great event, and made a lasting impression on his memory. It, however, created a desire in his soul to be something, and do something in the world.
In 1912 he became a member of the Durham Miners' Federation Board, and in 1915 he became an agent of the Durham Miners' Association, and acted as Executive Committee Secretary. In July, 1924, after the death of Mr. Thomas Cann, he was appointed General Secretary of the Association.
In 1917 he was one of the Durham members of the Committee of the Federation of Great Britain, and in 1921 was appointed Treasurer of that Federation—a position which he held up to his death. He was also one of the miners' members of the Miners' National Welfare Committee. He was also for several years a member of the International Miners' Committee, and in that capacity was very frequently on the Continent, at conferences and committee meetings. He also attended many meetings of the League of Nations Labour Organisation, held in Geneva. One of the most important reasons for these meetings between the Miners' Federation officials and the League of Nations was their desire to establish an international arrangement between the coal-producing countries of Europe.
About 28 years ago he was one of a few ardent souls who formed a branch of the I.L.P. at Usworth. It took some courage to do that at that time. He carried on an active propaganda movement, the result of which is seen to-day in the labour majority in the Durham County Council.
For 15 years before he went into the Durham Miners' offices, he was chairman of the Usworth Parish Council.
In parliamentary and municipal elections he usually acted as agent or sub-agent, and went canvassing and distributing Labour literature.
He received his elementary education at Usworth School, the schoolmaster being the late Mr. Walbank, father of Mr. J. A. Walbank, who is now our accountant for our District Wages Board. Between J. A. Walbank and Willie Richardson there has always been a strong bond of friendship. Ties formed as lads together have never been broken.
W. P.'s education did not stop when he, at 12 years of age, had to leave school and go into the pit. He continued to educate himself, and became a great reader of general literature. This helped him largely in the Trade Union and Labour Movements.
The whole Richardson family were ardent Primitive Methodists. When a boy, W. P. played the violin in the village Chapel. Unlike too many public men, he never severed his connection with the work of his church. This also was a great help in his public career. The storms of calumny and misrepresentation sometimes beat upon him, as they so often do on all men and women who endeavour to serve their fellows; but in the strength of his own conscious integrity, and the help of God, in whom he trusted, he remained firm and unmoveable.
On April 25th, 1895, he married Esther Howey, the daughter of the late Thomas Howey, Master's Weighman at Usworth Colliery. She died about three years ago. In my Monthly Circular of April, 1927, I gave a short biographical sketch of her life and labours. W. P. owed much to her. She was a helpmate indeed. She co-operated with him in all his work. The Women's Labour Movement in the County of Durham is the greatest movement of the kind in Great Britain, and probably in the world. That movement owes much to Esther and W. P. Richardson.
Because of their joint work on behalf of labour in general, and especially on behalf of the mining folk, I have united their photos as a front-piece to this Circular. They were a great example of what two ardent souls can do, working together in all things for the good of others. Neither of them lived to be old but: "He most lives, who thinks most - feels the noblest - acts the best."
• • ◊ • •
More Tributes, List of Mourners etc.
If you'd like to read all of this Tribute (highly recommended) you can download a PDF - Link at bottom of page.
• • ◊ • •
IN THE DARKEST DAYS
He was an optimist in the darkest days of our trials of 1926 and since. I have lost a friend I could ill afford to lose in the great and responsible stage upon which our organisation is entering. He was a Socialist as I am. He would be proud that I should say that at the open grave. He never apologised for the faith that was in him.
W. P. Richardson carried the cross of the Durham miners' sufferings, both employed and unemployed, and he was hoping for the resurrection. But he had faith, as I have, that our people are going to have better times, because we are entitled to them.
The suddenness of the death of W. P. should make us realise that life is too short to quarrel, hearts too precious to break. He was not more perfect than any of you are; but he was human, and sometimes more human than most of us. May his sudden death make us dearer to one another.
To the general public, to the clergy, to miners' leaders and to trade union leaders, I would say, when we are struggling for the right, help us, and do not reserve all the nice things you would say for our graveside. We feel we need some of those nice things while we are alive.
W. P. Richardson died while serving the folk he loved, and I hope and pray while standing at his grave that I will gain something of his example, his courage. He faced the unpopular as well as the popular with courage and determination. He had principles which he stuck to. 'Right' was his motto. He was a friend indeed to those who were oppressed. The Durham miners and the miners of Great Britain have lost a champion and a comrade. I shall take back with me the inspiration of his example and of his courage from this solemn moment by his grave.
He need not fear death. He did his duty as a father, as a man, and as a leader.
CONCLUSION
In the foregoing pages I have put on record the life and character of one of "the lowly poor", who did far more for the common people than many of the so-called great men who have figured largely in the history of our country. Let those have all the honour due, but let us not forget to honour our own.
Yours faithfully,
W. STRAKER
[ Taken from his original N.M.A Document, this Tribute was transcribed and supplied by W.P. (Bill) Richardson, W.P.'s grandson. ]
Download PDF: N.M.A. Tribute to W.P.
( Printed in large text for easy reading. )
Mrs W. P. RICHARDSON
AN USWORTH GIRL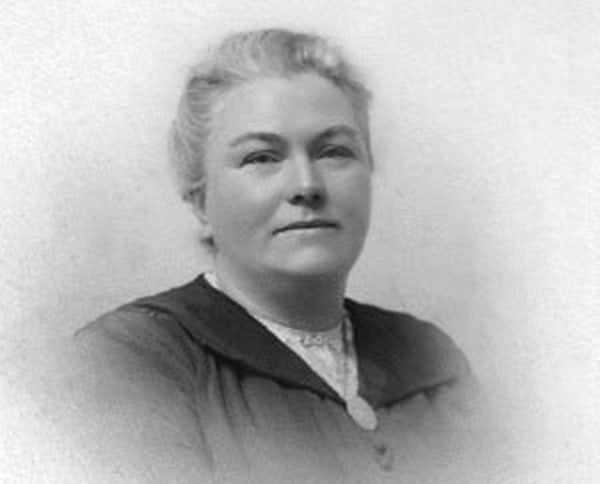 née Esther Howey.
(30th June 1875 - 3rd April 1927)
THE FUNERAL OF ESTHER RICHARDSON
Esther died on 3rd April 1927, aged 51.
Her funeral service was on 6th April 1927 at the Primitive Methodist Church, North Road, Durham.
She was buried in Saint Margaret's Churchyard, Durham.


Esther's husband, William, had a Memorial erected to her and the inscription reads:
"In Memoriam, Esther, Beloved wife of W.P. Richardson. Born 30th June 1875. Died 3rd April 1927."
• • ◊ • •
[ Esther's grandson, W.P. 'Bill' Richardson, provided the above press cutting and photographs. ]
• • ◊ • •
The press cutting titles were almost unreadable and have been rewritten.
O.E.D. Definition. Concourse (formal): A Crowd or Assembly.
FAMILY of Mr & Mrs W. P. RICHARDSON
Census: 2nd April 1911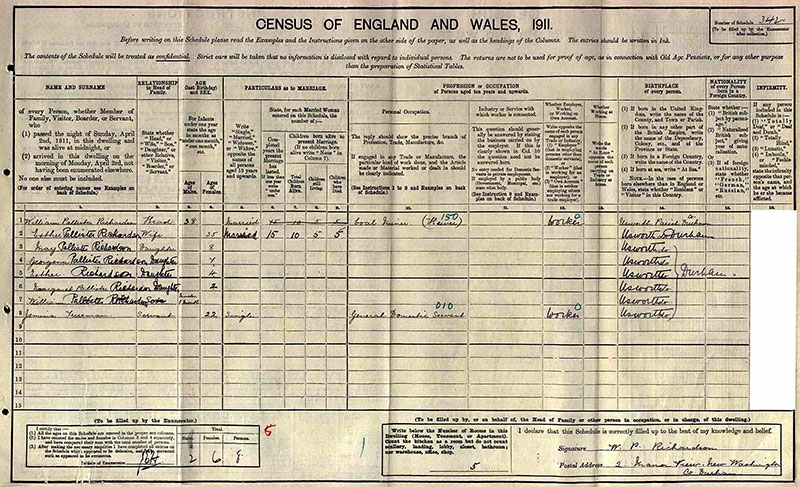 1911 Census Form showing the Family of W.P. and Esther Richardson, living at 2 Manor View.

W.P. Richardson - Esther P. - May P. - Georgena P. - Esther - Margaret P. - William P. Jnr - Jemima Trueman
The tragic loss of the family's first five children is recorded in the centre section.
Note: W.P. was a Hewer at Usworth Colliery and, rather unusually, the family had a domestic servant, Jemima Trueman.
Perhaps the family had taken on Jemima temporarily, so Esther could concentrate on looking after baby William?
William, their only surviving son, was born on the 10th March 1911 and was 3 weeks old at the census.


The Family are recorded as living at 2 Manor View, New Washington, Co. Durham.
[ Thanks again to grandson, W.P. 'Bill' Richardson. ]
• • ◊ • •
MAP OF USWORTH COLLIERY WELFARE PARK
( 1965 )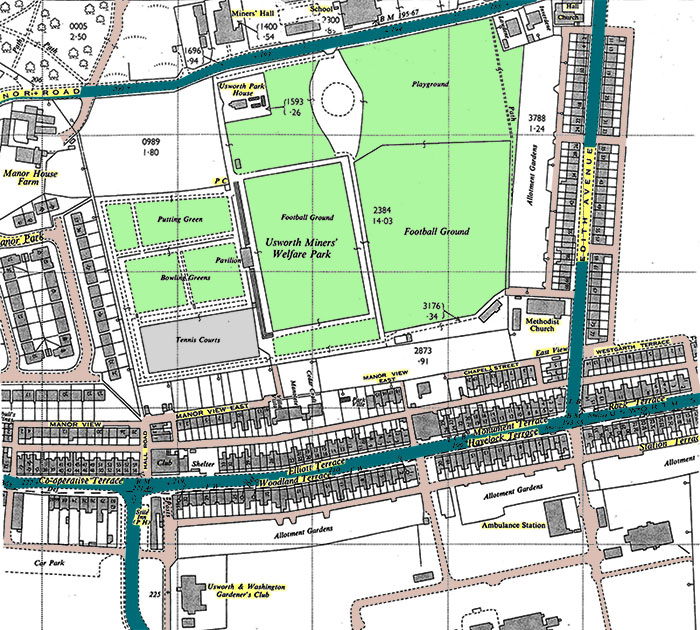 In 1911 the Richardsons were living at 2 Manor View, New Washington, Co. Durham.
[ 2 Manor View, lower-left of map. ]
---