A Nostalgic Journey in & around the Original Village of ...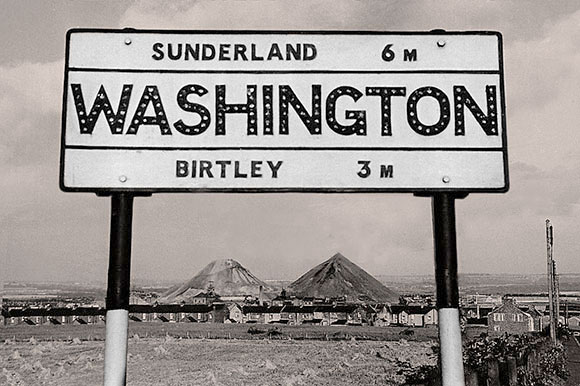 NOTICE BOARD
Latest upload: Friday, 19th April 2019.
• • ◊ • •
1. PHOTO GALLERY
1.1 1967 colour picture of Bowes Railway at Springwell Colliery. Thanks to photographer Colin E. Mountford.
1.2 This isn't a brilliant photograph but it's in colour and it shows the Ritz Facade after the original was blown down!
1.3 Inside Usworth Colliery Miners' Welfare Hall on VE Day in 1945 - a Tea Party for very young, local children.
1.4 The original, open to all weathers Bus Station at The Galleries - shows the original steps leading to Woolco etc.
1.5 1976 Sunderland Echo press cutting. Talks about widening of gangways in Woolco but shows The Silver Dollar!
Any idea when the last
Steam Engine hauled
IRON ORE TO CONSETT
via Washington Station and
Biddick Crossing?
---
2. ARTICLES, SELECTIONS, MAPS ETC.
2.1 Two paintings / postcards added to Postcard Collection. 'Lambton Colliery', looks like a bit of a misnomer!
2.2 Includes the above aerial picture of the Washington Highway, centred on Parson's Roundabout. Lots to identify.
2.3 This is the Quay on the River Wear, near Coxgreen, where Hogsheads of Copperas were loaded into Keel Boats.
From Usworth Training Centre
to the Haulage Roads of
Boldon Colliery.
Malcolm Young
Remembers his first 4 years
as a young miner.
[ Malcolm: "Not an easy read for non-miners!" ]
I can think of three more
Churches / Chapels
in this Mining Community.
---
3. OTHER STUFF
'What's Where' & 'How To Get There'
( Click one of these great pictures. )
• • ◊ • •
The Content of this Website was provided by the People of Washington.
You are welcome to download any non-copyright images that you would like to keep or print.
If you wish to upload images to another website, please mention raggyspelk.co.uk.
---
"Nothing is ever really lost to us as long as we remember it."
Lucy Maud Montgomery
(1874-1942)
---