NOTICE BOARD
Last Upload: Friday, 19th August 2022.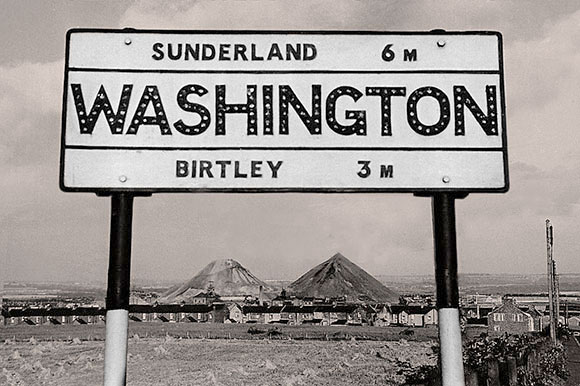 A Nostalgic Journey 'in & around' the original Village of Washington
[ Click above picture for views of the 'F' Pit Heaps. ]
• • ◊ • •
Some Recent Additions
1. This Photo fits in perfectly between between two nearby images in one of our 'Take A Stroll' Articles.
Were you around in the 1950s/60s? If so, what's over the Wall and what's behind the Coal Wagons?
2. 'Local Area Extracts' from the 1925 Edition of Kelly's Directory added to our existing 1890 & 1914 Editions.
Old Business Names are popular with a lot of our Visitors.
Try these 1939 Telephone Listings: CLICK ME ... and these Business Adverts: CLICK ME.
3. Article upgraded to include two 1970s images - The Demolition of Bobby Lee's School. Thanks to WHS.
4. Bus Routes Article given a new layout with many new additions. It even includes Blakey, Stan & Jack!
5. NCB NE Area, Colliery Closures Article reorganised with 3 local Colliery Demolition Pictures added.
The 2 Usworth Pit Demolition Pictures ALSO added to the 'Usworth Colliery Photo Gallery'.
Tab: Closure! CLICK ME
6. When was it officially opened? Name the Cottage, above the Boys Brigade, almost hidden in the trees.
7. How many Washington Locations can you recall where a Gentleman could discreetly relieve himself?
There's one in Picture No.7 ... on Washington Village Green!!!
• • ◊ • •
What's Where?
Website Map / Location Index
[ Click one of the above Images. ]
"Nothing is ever really lost to us as long as we remember it."
Lucy Maud Montgomery
(1874-1942)
The Content of this Website was provided by the People of Washington.
You are welcome to download any non-copyright images that you would like to keep or print.
[ If you wish to upload images to another website, please mention raggyspelk.co.uk ]
---