A Nostalgic Journey in & around the Original Village of ...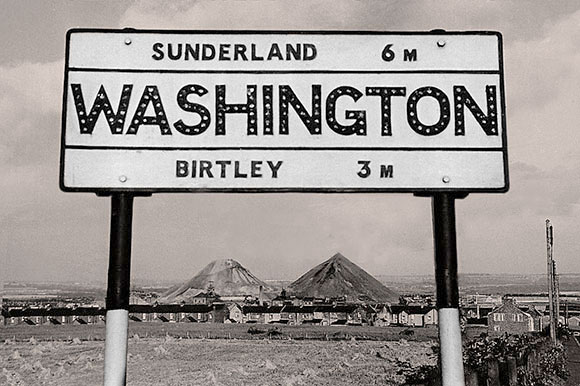 NOTICE BOARD
Friday, 27th April 2018.
• • ◊ • •
1. PHOTO GALLERY
1.1 Super quality B&W picture of a Ladies' Lunch / Meeting held inside Usworth Colliery Miners' Welfare Hall.
1.2 Well Bank Road / Top of The Drive - one of Washington's major bus routes. Looking towards High Usworth.
1.3 Timetable (existing) now complemented by an image posted by Sunderland Antiquarian Society - a 1963 diesel train.
1.4 Upgraded picture: More content and far better quality. Links to Washington Welfare Hall article - see 'Heyday' Tab.
1.5 A vastly superior replacement image showing this well-known Terrace as demolition time approached. Name it!
Another Major Bus Route
There's a Family Butcher's Shop in front
of the camera and a Pub behind.
---
2. ARTICLES, SELECTIONS, MAPS ETC.
2.1 Added to the 'Then & Now' Collection: Washington Glebe Colliery, its entrance on The Avenue and Map of Area.
2.2 Bradshaw 1887: Sunderland to Bishop Auckland railway timetable, including fares to Coxgreen and Penshaw.
2.3 This picture in a small collection showing one of the New Town's earliest factories - Radio Corporation of America.
Over 50 Years ago:
Saint Bede's Church
Added to our 'Then & Now' Collection.
Built on the once busy 39 Bus route, c.1965.
There's a short addendum that might interest you:
The Bridge over The Burn.
Plus Maps.
---
3. OTHER STUFF
'What's Where' & 'How To Get There'
( Click one of these great pictures. )
• • ◊ • •
The Content of this Website was provided by the People of Washington.
You are welcome to download any non-copyright images that you would like to keep or print.
If you wish to upload images to another website, please mention raggyspelk.co.uk.
---
"Nothing is ever really lost to us as long as we remember it."
Lucy Maud Montgomery
(1874-1942)
---