---
Memories of Washington
Then & Now Collection (2 of 6)
---
Front Street & New Inn viewed from Victoria Road

THEN (1 of 2)
Front Street, New Inn, Spout Lane and Victoria Road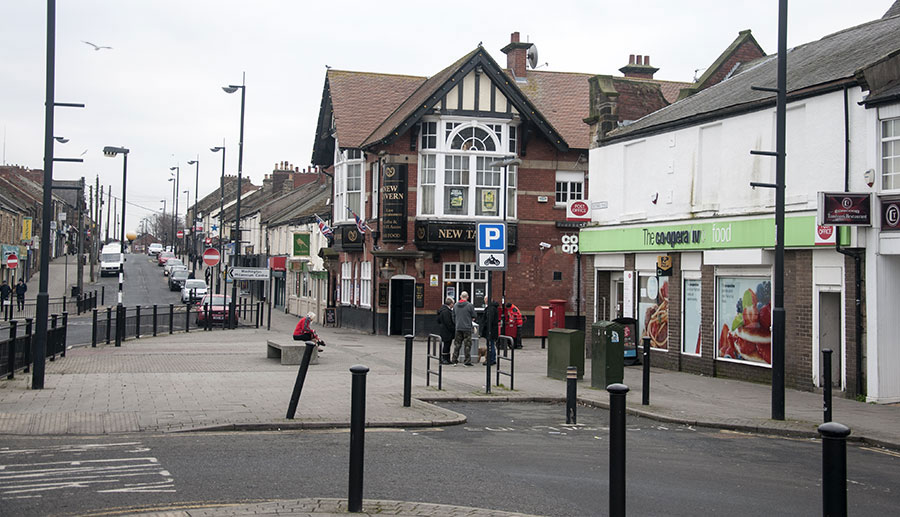 NOW (1 of 2)
The main road has been moved to the left and the entrance to Spout Lane has been pedestrianized
[ Photo: J.G. 19th Jan 2017 ]
• • ◊ • •
New Inn & Victoria Road viewed from Front Street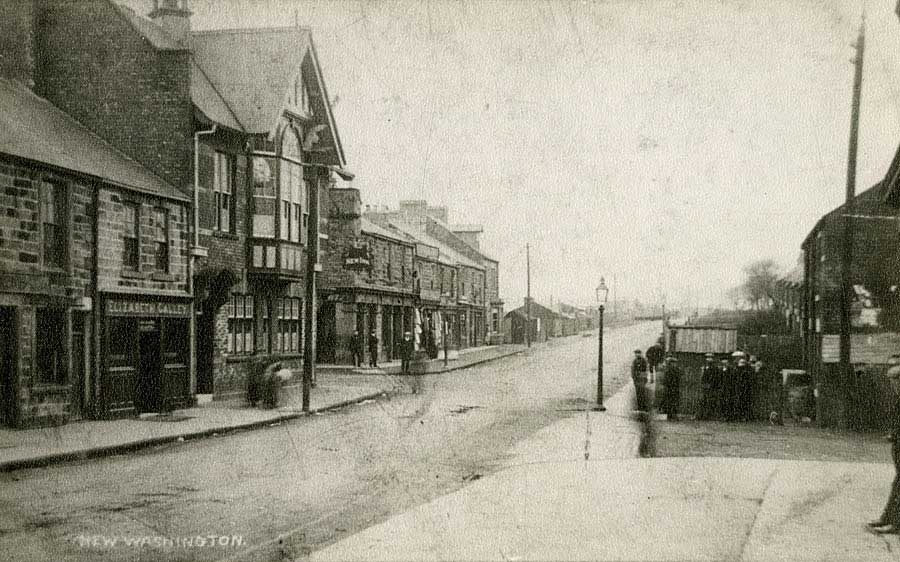 THEN (2 of 2)
Front Street, Predecessor to the Bird Inn, New Inn & Spout Lane. Cross Victoria Road to New Rows & Manor Road.
[ Posted by kind permission of Beamish Museum Resource Centre ]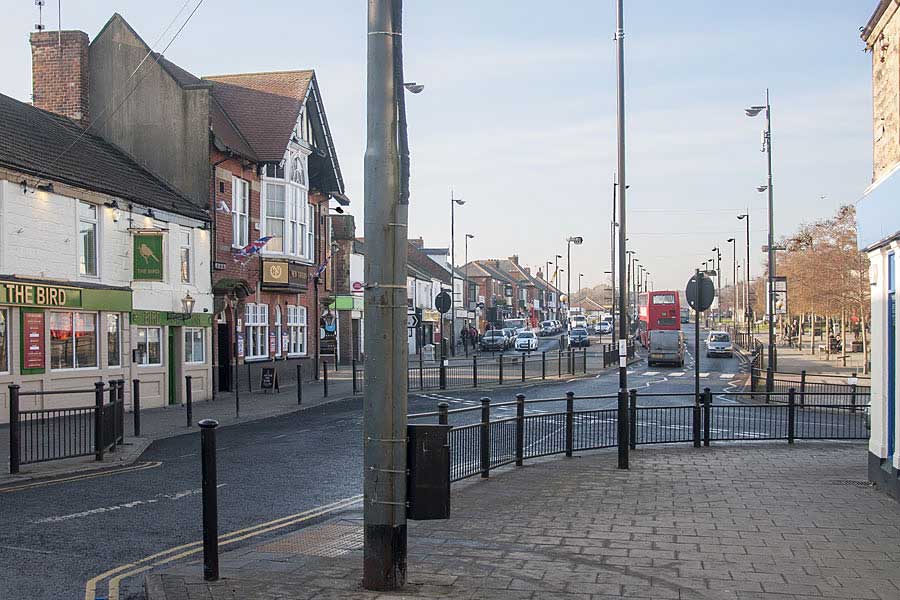 NOW (2 of 2)
The main road and pedestrian precinct, middle-right, stand on the former site of New Rows.
[ Photo: J.G. 23rd Jan 2017 ]
Spout Lane, The Coop & Victoria Road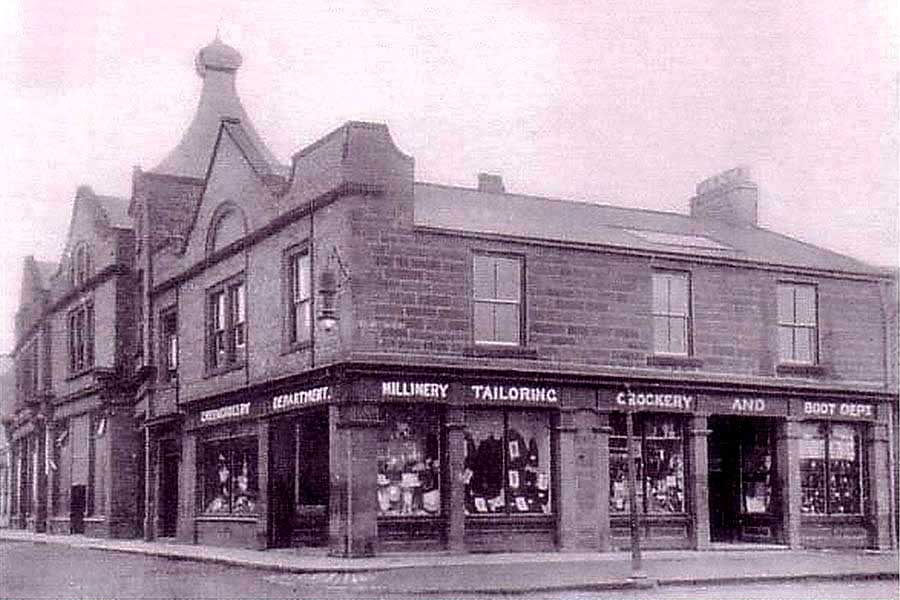 THEN (1 of 2)
The Cooperative Store on Spout Lane was New Washington's very own super-store.
[ The Butchery Department had its own abattoir. Once, in the Butcher's Shop with my Mam, I was allowed to hold the bolt gun. Wow! ]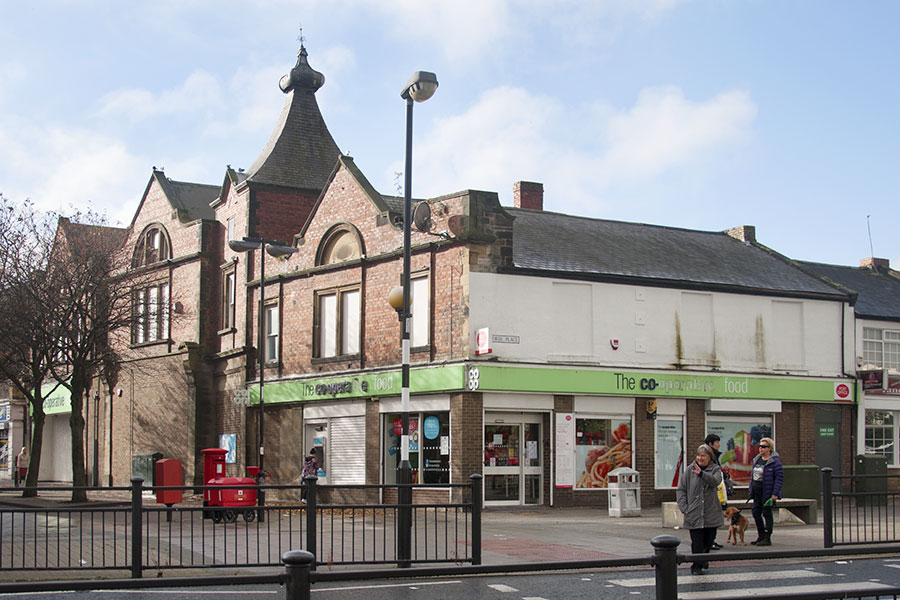 NOW (1 of 2)
Vivienne told me that this corner building will be refurbished, starting November.
[ Photo: J.G. 18th Oct 2017 ]
• • ◊ • •
The Coop viewed from Spout Lane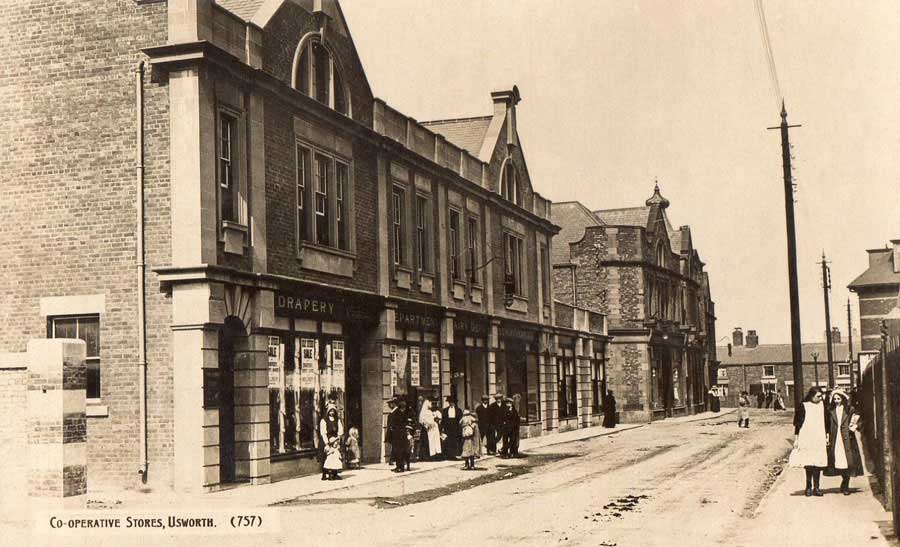 THEN (2 of 2)
Main Building: Drapery / Department / Dairy Dept / Greengrocery. New Inn Corner - Victoria Road - New Rows Terrace.
[ The alley between The Coop Buildings leads to the Alexandra Theatre, later the Regal Cinema. In 1904, New Rows was in the Parish of Usworth. ]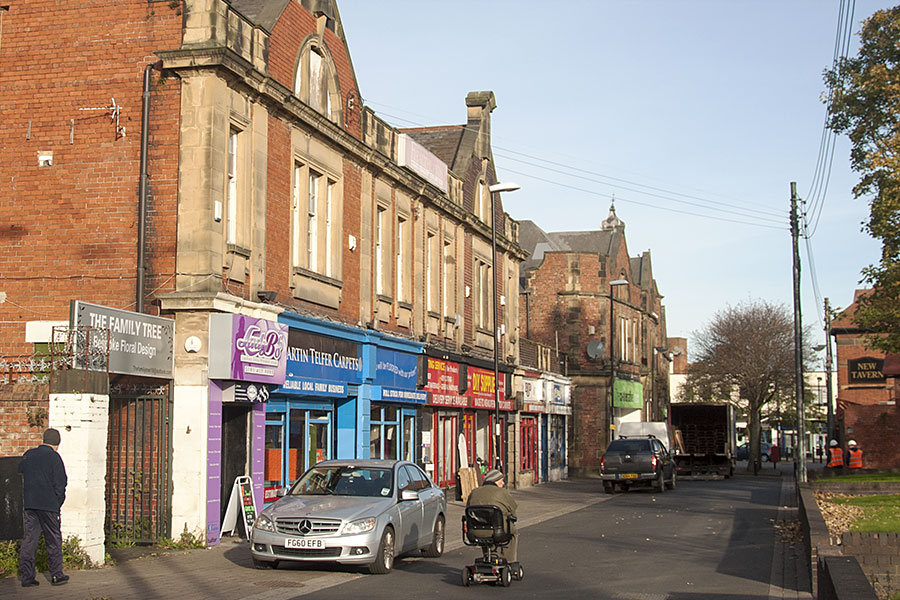 NOW (2 of 2)
Spout Lane is no longer a through road and the New Inn is now called the New Tavern.
[ Photo: J.G. 30th Oct 2017 ]
Front Street viewed via Victoria Road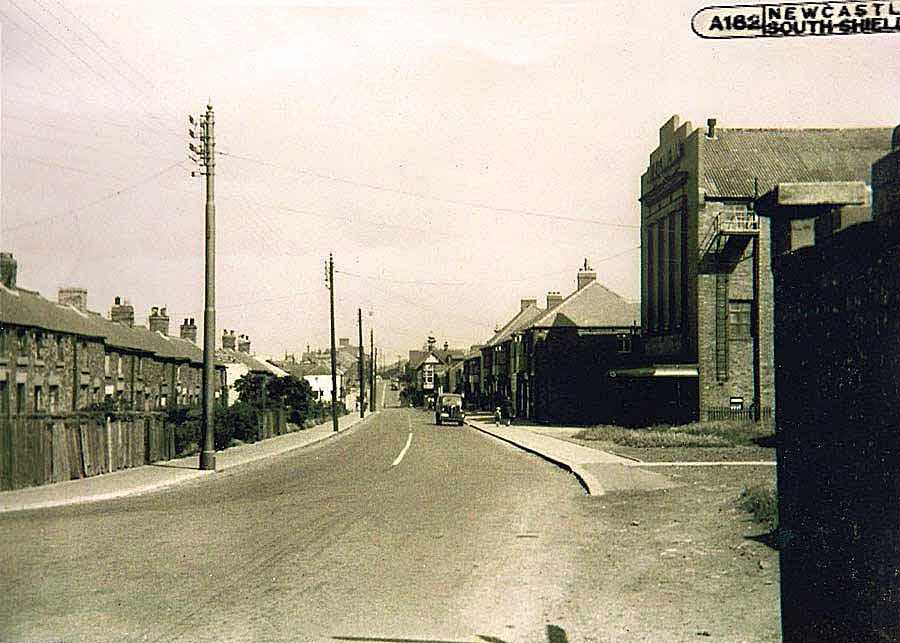 THEN
Photograph taken at the junction of Victoria Road, Blue House Lane and Heworth Road.
Note the sign pointing along Heworth Road and its shadow, bottom-centre.
[ N.B. This image combines good and poor quality versions of the same picture. The best version didn't contain the road sign and the poor version omitted the shadow. ]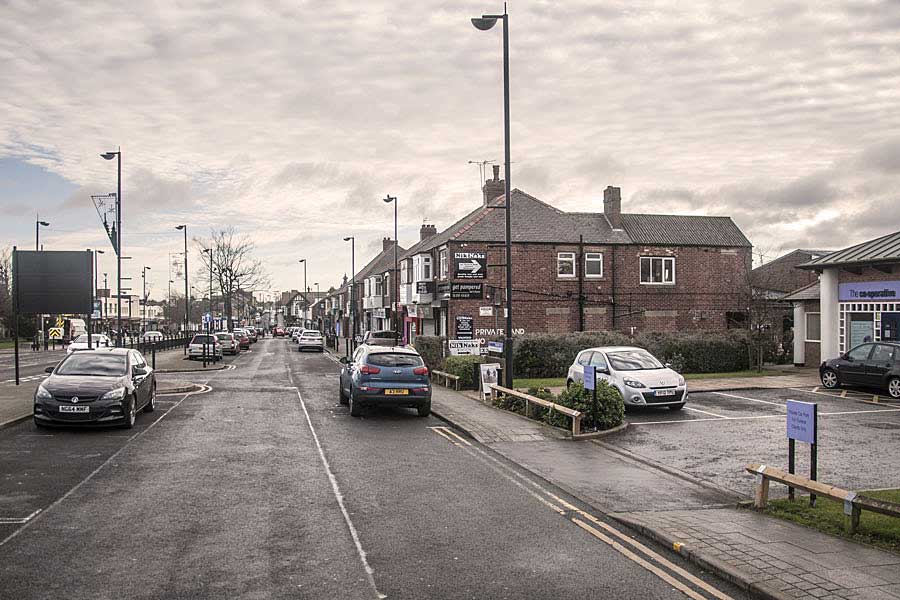 NOW
The main road runs where New Rows houses once stood and the site of the former Ritz Cinema is now a Co-op Funeral Parlour.
[ Photo: J.G. 10th Jan 2017 ]
Saint Bede's Church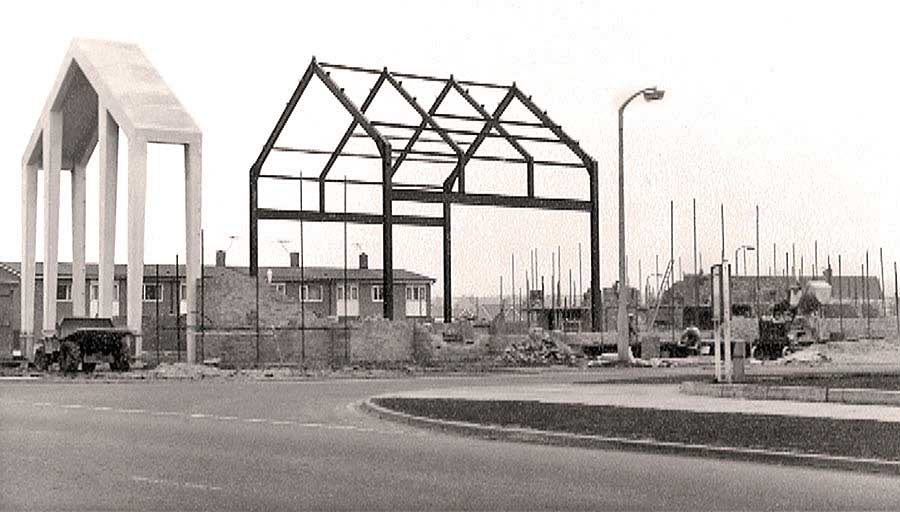 THEN
Saint Bede's R.C. Church was built in 1965.
[Entrance to Coach Road Estate from Heworth Road - opposite Douglas Terrace. ]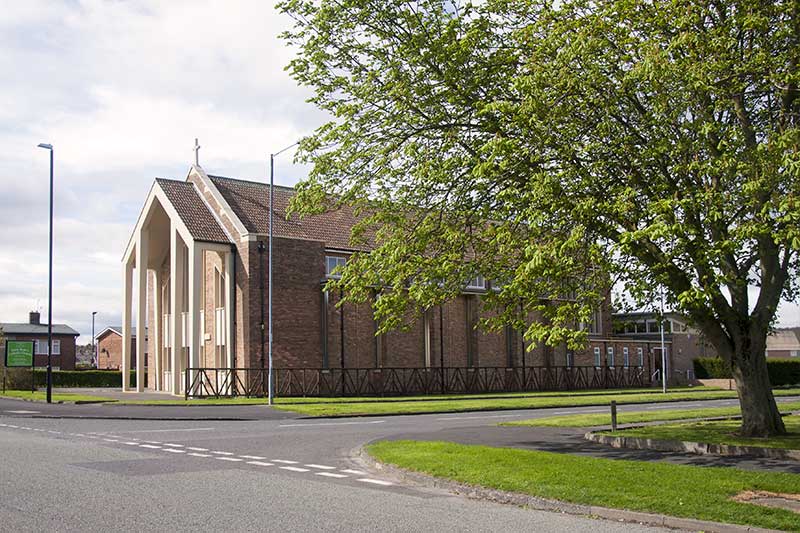 NOW
Half a Century Later.
[ Photo: J.G. on Saint George's Day, 2018 ]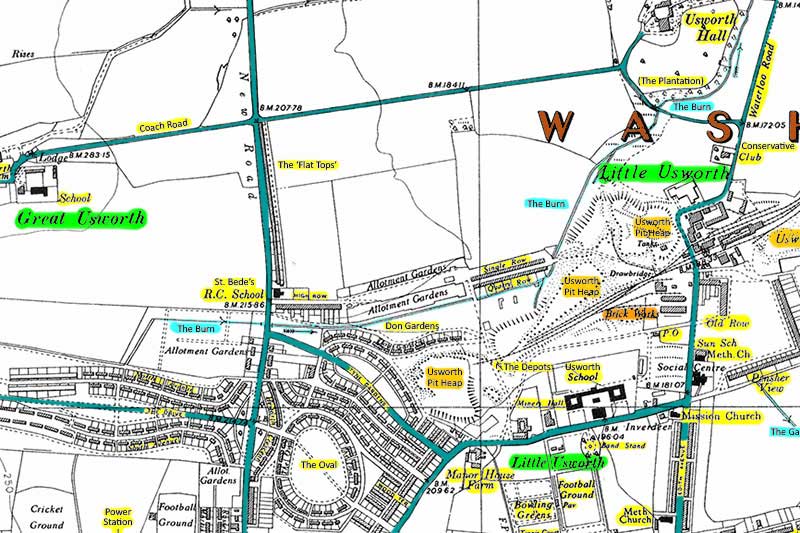 THEN - 1951
Saint Bede's School, but no Coach Road Estate!
[ School between 'The Flat Tops' and High Row. ]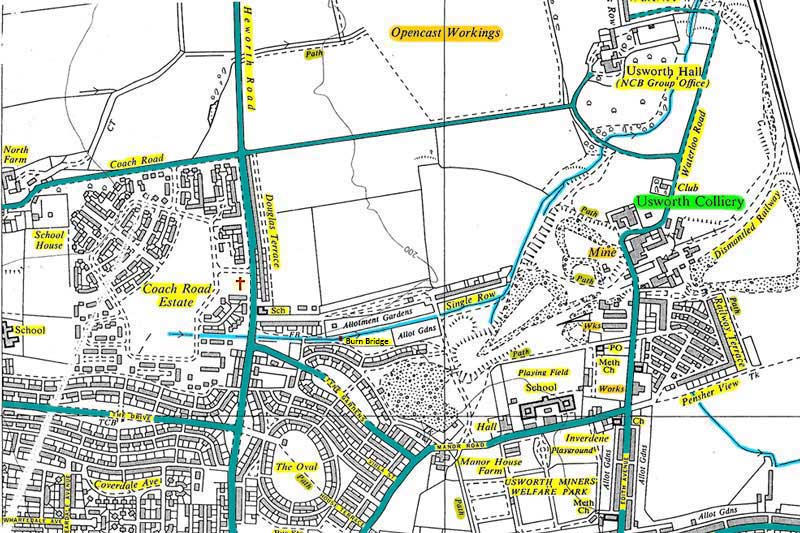 THEN - Early 1960s
Saint Bede's School & The Coach Road Estate - no Saint Bede's Church, yet!
[ The Cross marks the future location of Saint Bede's. Note the Bridge over The Burn. ]
• • ◊ • •
Saint Bede's School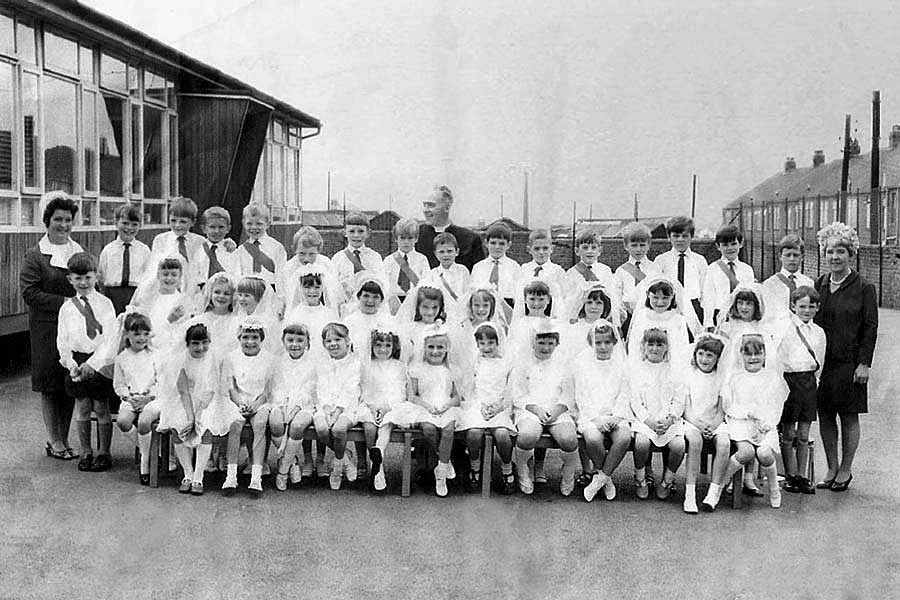 THEN
Lots of Smiles from the Children of Saint Bede's School. Prefabricated Classrooms - probably 1960s.
[ Note High Row alongside the school. ]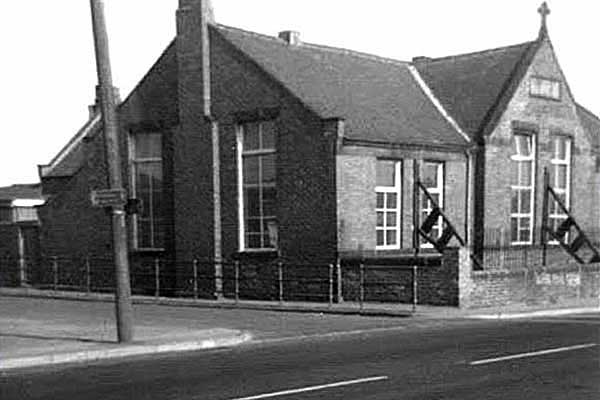 THEN
Original School Buildings on Heworth Rd, formerly New Road.
[ This site is now occupied by private houses. ]
• • ◊ • •
Addendum
James Gill's Bridge Over The Burn
Remember the off-licence immediately to the left of the school?
That's where I got my Dad's 'carry-oots' - no proof of age required!
Out of the front door at Don Gardens, over the Burn Bridge,
then along High Row back street to Heworth Road.
The Burn Bridge - A Popular Thoroughfare!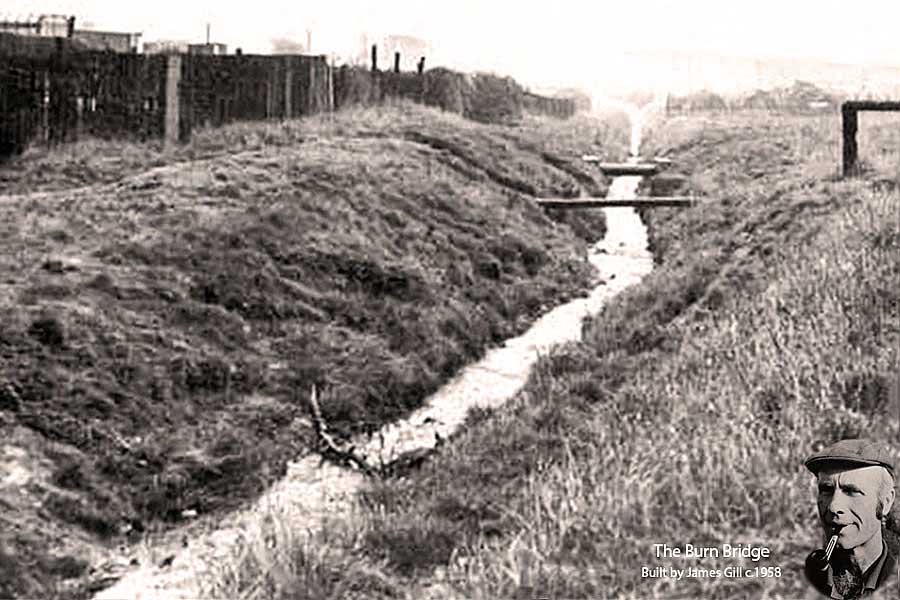 THEN
The Bridge over The Burn was built (circa 1958) by 'F' Pit Lorry Driver, James Gill (1922-1982).
It comprised two railway sleepers on foundations made from large wooden chocks.
I suspect that this material was probably 'courtesy' of the N.C.B.
He cut a path into the north bank, and his bridge
immediately became the route of choice
from High Row to Don Gardens.
( Dad's Allotment: top-left. )
[ There were two steel pipes, see picture, crossing just downstream from my Dad's Bridge. The large diameter pipe is hiding one of much smaller diameter. ]
Who Remembers Jumpin' Diggers?
[ A Digger: A leap from one side of The Burn to the other. ]
Blue House Lane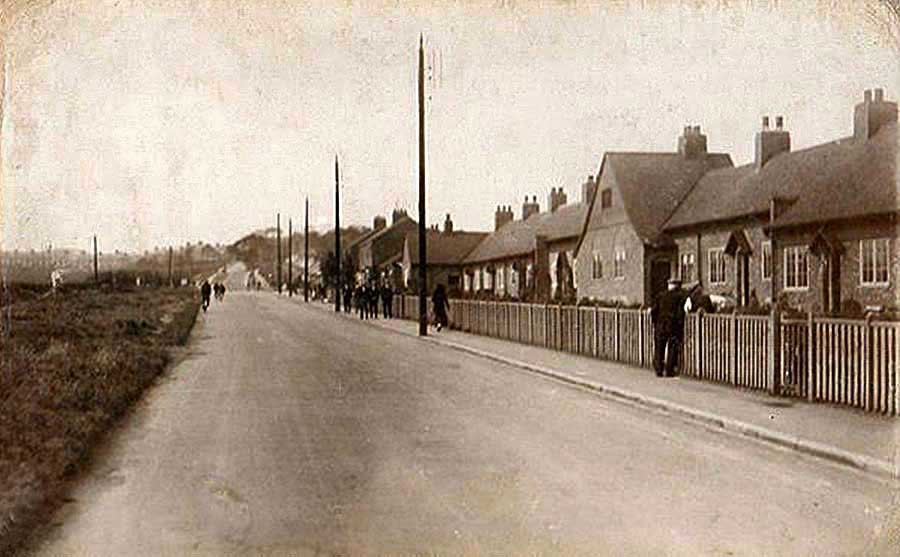 THEN
Havannah Terrace: left horizon. Blue House: up the bank, on the right. T. H. Cann Memorial Aged Miners' Homes: right.
Cyclists approaching footpath (left through fields, just beyond Well Bank Rd) to Village Lane & Raft Yard.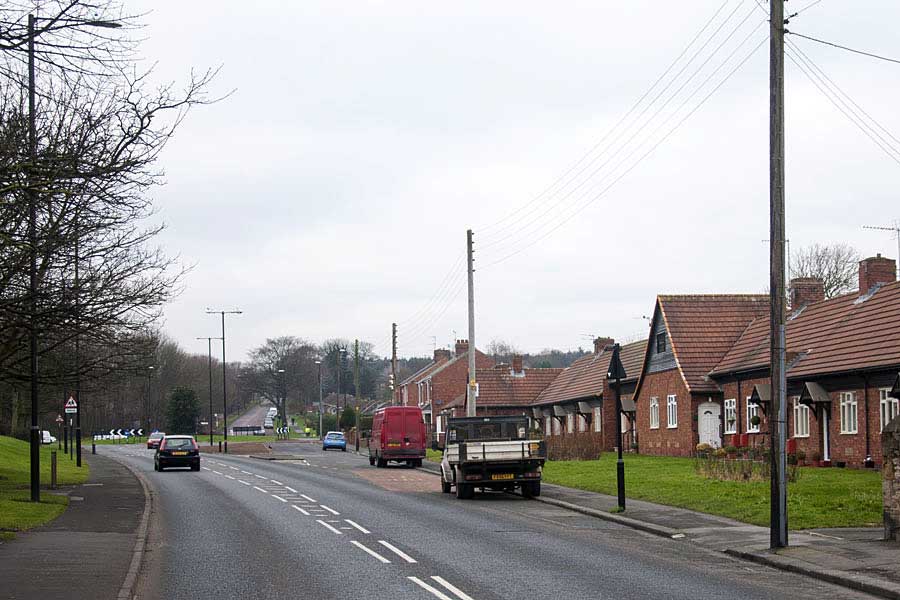 NOW
Note how the approach road to the 'new' roundabout leaves the original line of Blue House Lane.
Havannah Terrace has gone and the 'new' Havannah Road travels left from the roundabout.
[ Photo: J.G. 19th Jan 2017 ]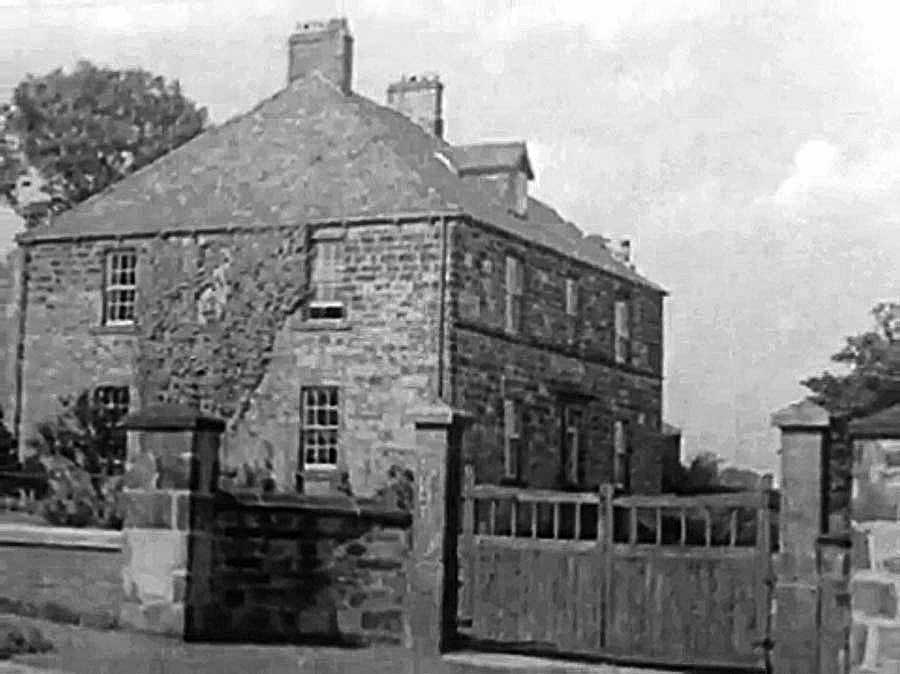 Blue House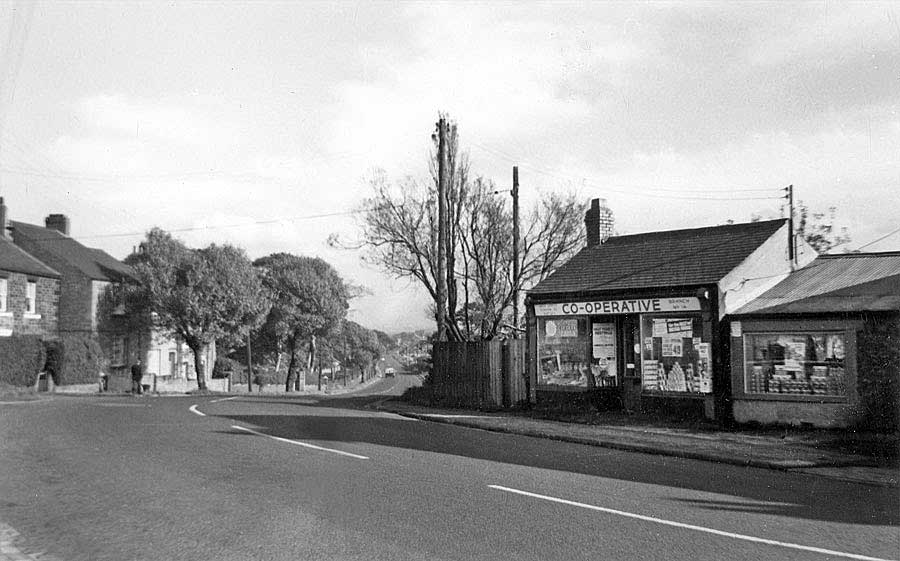 Havannah Terrace Co-operative Store.
The entrance to Blue House is just down the bank, on the left. The Miners' Cottages are further down, also on the left.
Susan Peareth's School (Founded 1814) - Top of Well Bank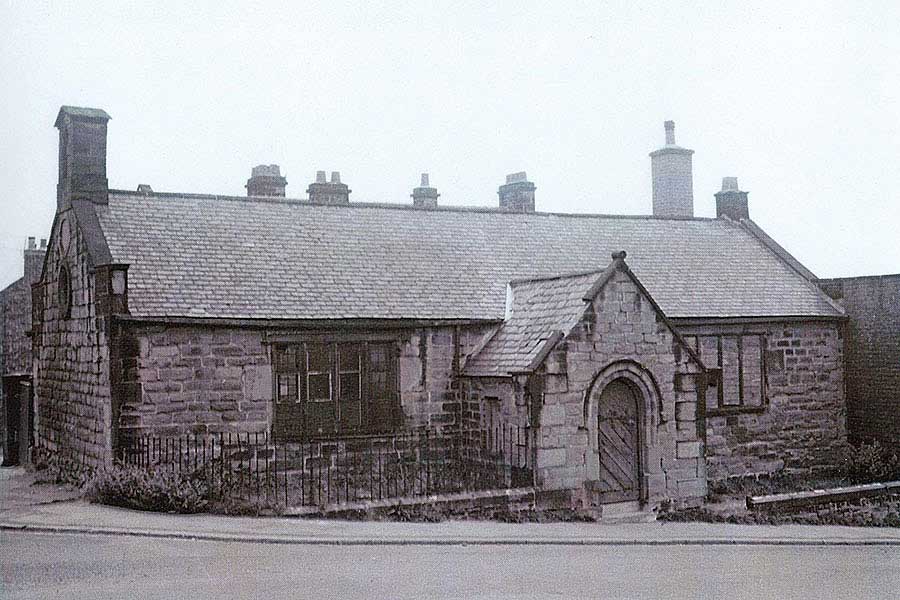 THEN
Founded & funded by widow Mrs Susan Peareth, Lady of Peareth Hall, to teach
reading, writing & numeracy to local children of poor families.
[ Photo by John Routledge of the Blue Bell Inn ]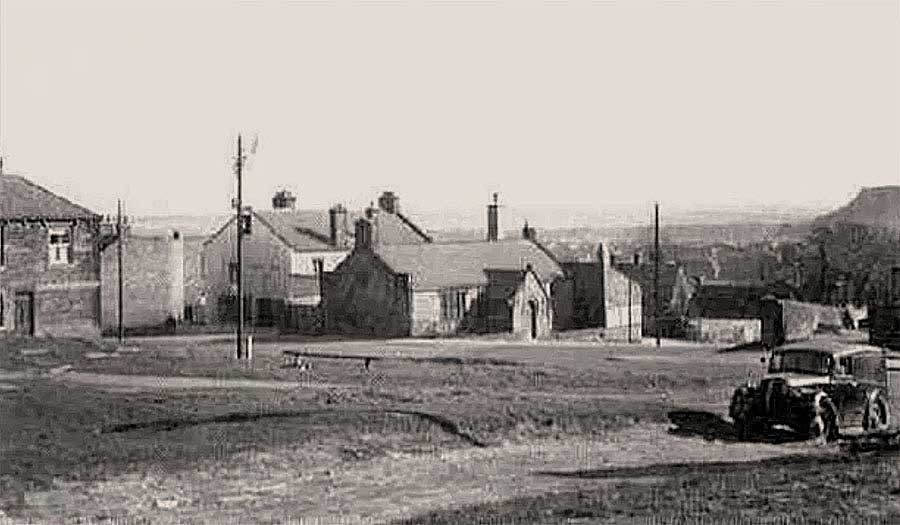 THEN
Blue Bell Inn - Susan Peareth's School - Top of Well Bank Road - Penshaw Monument (lost in a bright sky) - 'F' Pit Heap

NOW
Blue Bell Inn - Grass Plot where Susan Peareth's School once stood - Top of Well Bank Road - Penshaw Monument
[ Photo: J.G. 1st Dec 2016 ]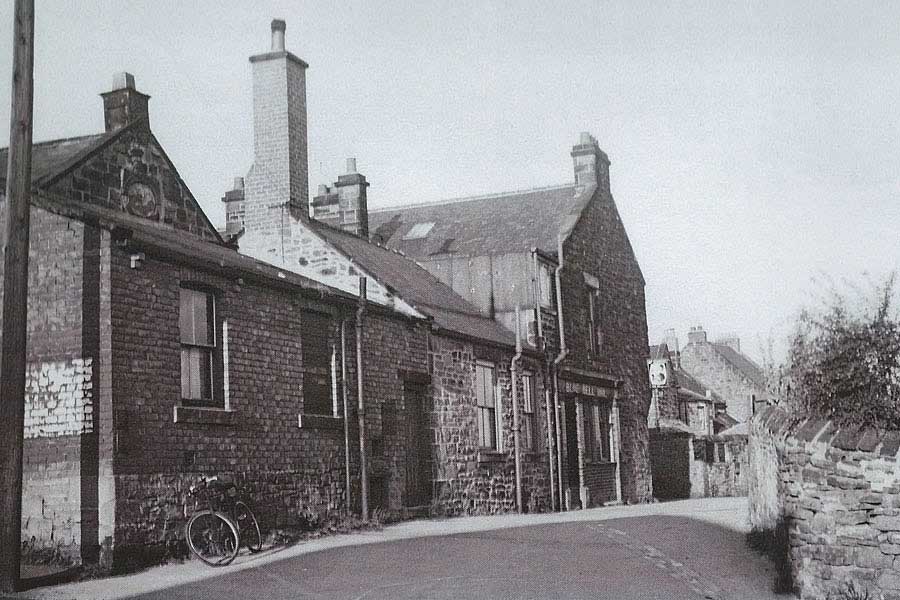 The south-facing apex of Susan Peareth's School
and the street behind the Blue Bell Inn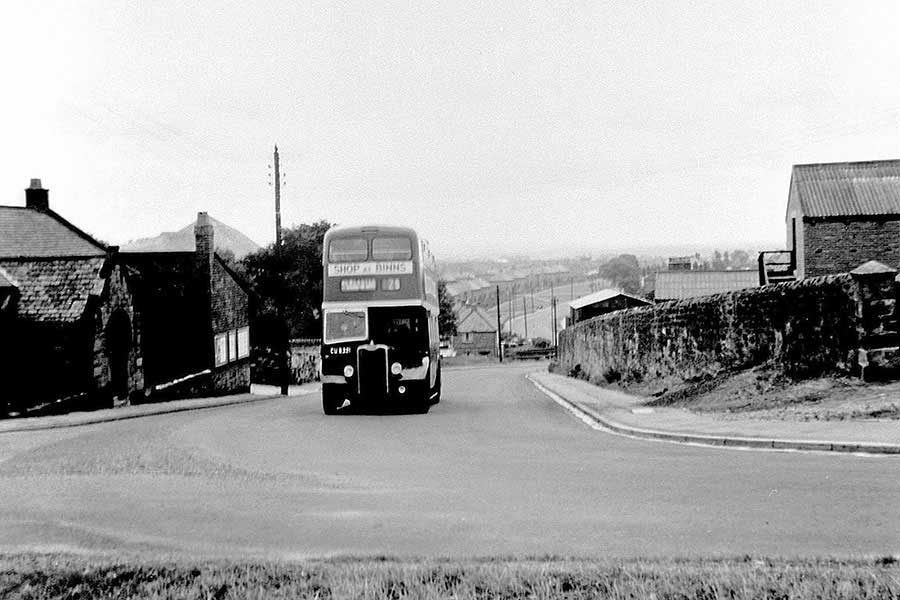 The 25 Bus making its way past the School Entrance.
Mrs Peareth lived a short walk away. Click Me to find out where.
Municipal Terrace / Spout Lane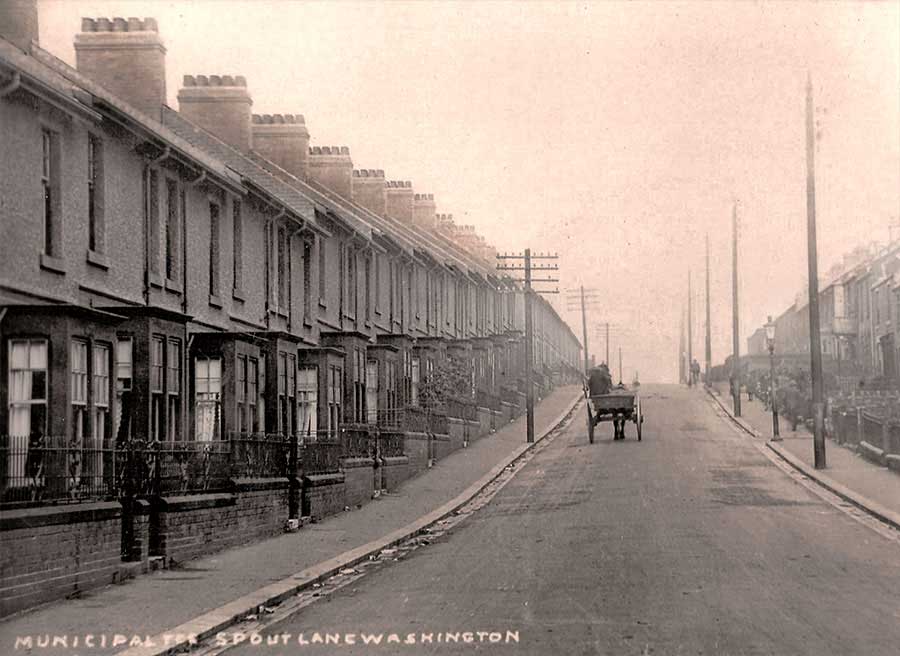 THEN
Municipal Terrace ( 5 chimney pots per house! ) Spout Lane Straight ahead to New Inn Corner.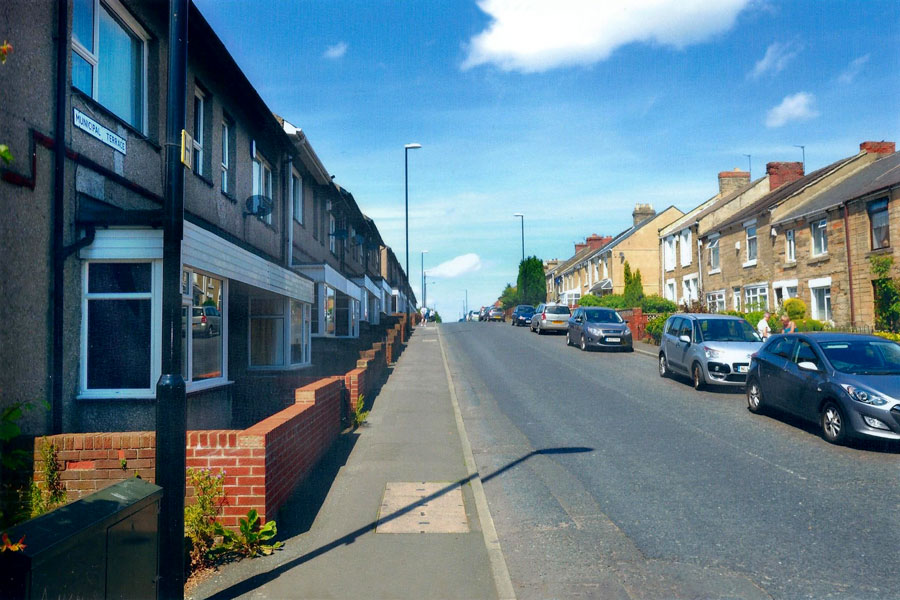 NOW
Spout Lane: just up the bank from the A1231 (Sunderland Highway) which now blocks this road. [ June 2014 ]
• • ◊ • •
BETWEEN THEN & NOW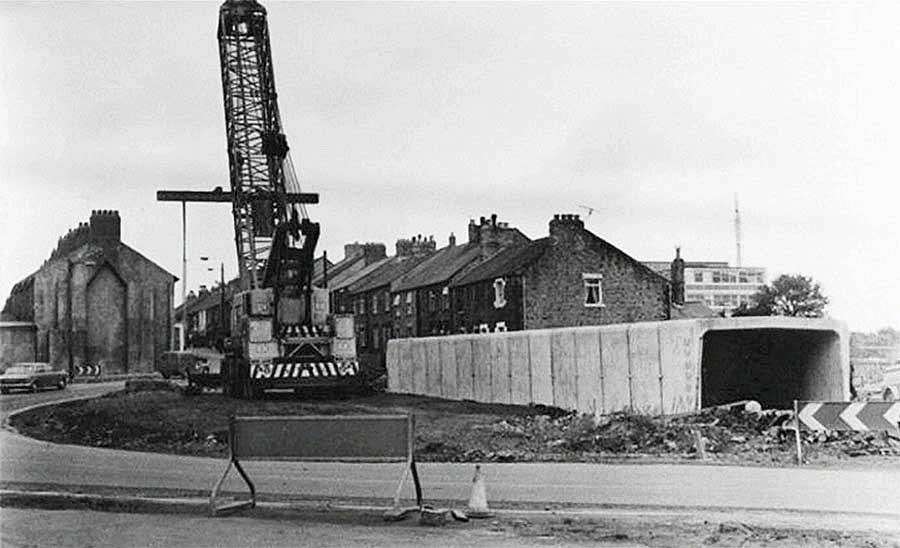 Construction of the A1231 Sunderland Highway Pedestrian Underpass.
[ Note the temporary by-pass road. ]
THEN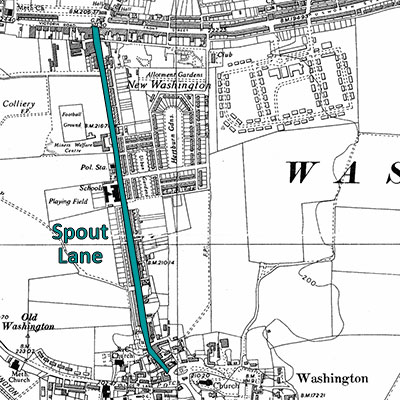 A Major Thoroughfare to Houghton-le-Spring
[ 1950s ]
NOW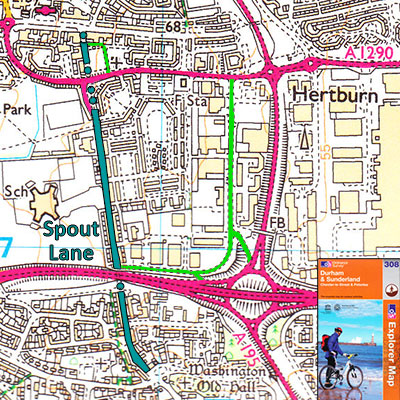 Blocked!
[ 2000 ]
---